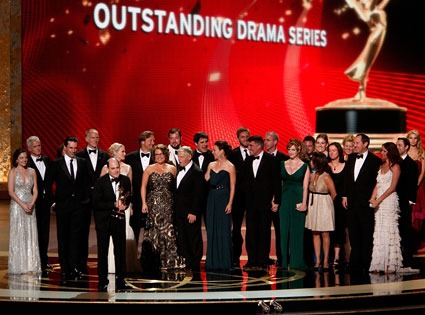 Kevin Winter/Getty Images
Are you watching now?
Despite what some would characterize as criminally low ratings, 30 Rock scored its second consecutive win for Outstanding Comedy Series and Mad Men notched its first win for Outstanding Drama Series on what turned out to be an evening of firsts (and fourths and elevenths...) at the 60th Annual Emmy Awards, which took place Sunday night at the Nokia Theatre in Los Angeles.
In addition to 30 Rock's repeat, the seventh Emmy nomination was finally the charm for scene stealer Alec Baldwin, a winner for Outstanding Actor in a Comedy Series for playing irrepressible TV-programming exec Jack Donaghy on the NBC sitcom. (For a list of top winners, check out our Emmy scorecard.)
"We have the greatest cast and the greatest crew and the greatest writers," the gracious big-screen veteran said.
And he wasn't just whistling "Dixie": Tina Fey needed both hands to scoop up wins for Lead Actress in a Comedy and Outstanding Writing for a Comedy Series.
"Sometimes when I don't know how to play a scene, my husband will say, 'Just try to act like Julia Louis-Dreyfus.' So, thanks, Julia, that's really working out for me," Fey said, prompting a "yeah, thanks" thumbs-up from Louis-Dreyfus, a winner in 2006.
Overall, 30 Rock took home seven Emmys in 2008, including Tim Conway's guest actor statue and five technical wins.
Meanwhile, basic-cable network AMC really started to think outside the box last year and has no reason to ever look back.
The critically beloved Mad Men, meticulously set when the battle of the sexes was really booming in the 1960s-era NYC advertising world, was a winner for Outstanding Drama Series, giving producers a shiny mate to sit next to their Golden Globes.
The win, the first-ever best-drama win for a basic cable series, gives Mad Men six Emmys for the year, including technical honors handed out during last week's Creative Arts Emmys.
And although it wasn't Don Draper's year, AMC's leading men didn't go home empty-handed: Bryan Cranston, always a bridesmaid but never a bride for playing the addled dad on Malcolm in the Middle, was rewarded for his crazy antics on Breaking Bad with the Emmy for Outstanding Actor in a Drama Series.
"Oh man, she's bald too," the actor said, referring to the statue's resemblance to his own smooth pate—which, perhaps, is bald for the upcoming second season of his role as a financially strapped, meth-cooking, cancer-patient family man.
The basic-cable success continued with wins for Damages' Glenn Close—a likely choice for Outstanding Lead Actress in a Drama Series, considering litigator Patty Hewes is so damn scary yet weirdly likable at the same time—and supporting actor Zeljko Ivanek, a character actor you've seen in everything but didn't know by name until his southern-fried Damages character left a lasting impression on Patty's office wall.
"I think we're proving that complicated, powerful, mature women are sexy in high entertainment and can carry a show," Close said.
Speaking of carrying a show…or not…
The cohosting quintet of Tom Bergeron, Heidi Klum, Howie Mandel, Jeff Probst and Ryan Seacrest started things off with an improvised bit about how they—as reality-TV show pros—had nothing in particular prepared to start the night off right, considering Oprah Winfrey had already said the collective "hello."
So, for lack of a better idea, Bergeron got William Shatner to come onstage and help rip Klum's clothes off, revealing a sparkly black shorts-and-top ensemble.
She went on to change clothes 74 times.
But the dazzling wardrobe changes did nothing to help her cause: Probst, who has lorded over Survivor for 16 seasons (and has inked a contract to make it 20 before he hangs up his hiking boots), took home the inaugural Emmy for Outstanding Host for a Reality-Competition Program.
The audience as a whole twittered at the smirk-inducing opening act, but there was at least one script-following star who would have preferred a little more panache.
"What if I just talked for 12 minutes—that was the opening," Jeremy Piven, taking home his third straight Emmy for Outstanding Supporting Actor in a Comedy Series for chewing the scenery on Entourage, snarked upon accepting his award.
(Far better, later on in the evening, was Jimmy Kimmel putting the five reality-show hosts through their paces and making them wait until "after the break" to hear the results.)
"These are strange times for all of us," Piven said, on a more serious note. "To be a working actor is an unbelievable gift. None of this is lost on me, thank you so much."
Jean Smart, a winner for Oustanding Supporting Actress in a Comedy Series for her role as Christina Applegate's meddlesome yet well-meaning mom on Samantha Who?, also picked up a third Emmy, albeit her first since 2001 and her first as a series regular.
"I want you to know, I'm wearing a tuxedo under this dress—but I'm not taking it off," she said.
Last year's winner for Outstanding Actor in a Comedy Series, Ricky Gervais, made for one of the best bits of the night, needling his Office counterpart Steve Carell—who, thanks to Stephen Colbert and John Stewart's moment of whimsy, became the unexpected "winner" of the 2007 trophy—to hand over the supposedly missing hardware.
"I made you what you are, and I get nothing back," the Brit deadpanned, while a stone-faced Carell refused to give it up.
In accepting the Emmy for Outstanding Supporting Actress in a Drama for the absentee Dianne Wiest, who plays shrink to Gabriel Byrne's psychiatrist on HBO's In Treatment, presenter Conan O'Brien informed the audience that he would soon be passing Wiest's trophy on to a still Emmyless Carell.
Not for the first time and certainly not for the last, HBO made a big splash in the miniseries and TV movies categories on its way to a top-o'-the-night 26 wins.
Half of those wins came from the seven-part John Adams, which led all Emmy honorees. The ripped-from-the-history-books drama's 13 trophies included Outstanding Miniseries and nods for star  Paul Giamatti, his "fake wife," Laura Linney, and supporting actor Tom Wilkinson.
"The election between Jefferson and Adams was filled with innuendo, lies, a bitter partisan press and disinformation. How far we've come since then," executive producer Tom Hanks quipped in accepting the top miniseries trophy.
Recount, a retelling of the circumstances surrounding the contested 2000 presidential election, was the top made-for-TV movie and also won Jay Roach a trophy for directing a miniseries, movie or dramatic special. 
Revered comedian Don Rickles also notched a pair of wins for the Home Box Office, proving Colbert right by beating the fake newsmonger out for Outstanding Individual Performance in a Variety or Music Program for the documentary special Mr. Warmth: The Don Rickles Project, which was also named top Variety, Music, or Comedy Special.
Also not surprising (despite being somewhat boring) was The Amazing Race's sixth consecutive win for Outstanding Reality-Competition Program, meaning American Idol has once again gone without and Project Runway will remain just a Peabody Award winner for now.
As mentioned before, the spoils also went to the veteran reality-show ringleader. Luckily, by then the show was almost over, so there was no on-camera time for hard feelings, and Probst merely wished the audience a good night.
Complete list of winners at the 60th Annual Primetime Emmy Awards.