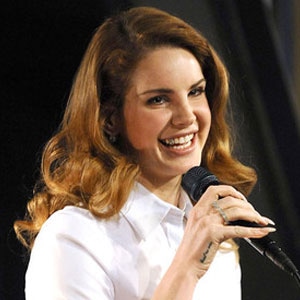 Jason LaVeris/FilmMagic
Demi Lovato and Daughtry weren't the only performers to take the American Idol stage!
Singer Lana Del Rey also performed at the show...you just won't see it until next Thursday! Due to scheduling conflicts, Del Rey came in after tonight's show to pretape her appearance on the show and we stuck around, along with the live audience, to catch a sneak peek of the performance. 
So how did she sound? Plus, which contestants were in tears after tonight's elimination? 
Del Rey performed her hit song "Video Games" twice for the live audience after tonight's show. She was accompanied by a 16-member orchestra and a piano.
Her performance was intimate and low-key, with rose petals falling on the singer at the end. Wearing a white dress and Converse sneakers, Del Rey seemed rather nervous before her rehearsal of the song, but loosened up a bit, waving to fans and laughing when the stage manager joked about having a sleepover with the audience. 
While it was definitely an improvement from her much-maligned Saturday Night Live showing, Del Rey's vocals probably wouldn't take her far on a singing competition show like Idol.
Last year's third-place finisher Haley Reinhart will perform her new single "Free" live on Thursday's show. 
As for the night's elimination, viewers said goodbye to 16-year-old Shannon Magrane, whom the judges decided not to use their one save on.
While Shannon handled the elimination remarkably well, four of her fellow contestants were in tears after the show. Hollie Cavanaugh, Joshua Ledet, DeAndre Brackensick and Skylar Laine were all crying as Shannon attempted to console them! Shannon's parents came onstage after the show and went around hugging all of the contestants. 
Joshua and Skylar were much happier earlier in the show when it was announced their BFF Hollie made the summer tour, with the three of them jumping up and down and then dancing during the following commercial break. Also having a good time? Colton Dixon, who playfully yelled at host Ryan Seacrest during a commercial break after he made him believe he was in the bottom three during the show. 
Usually in a much lighter mood? Heejun Han, who looked extremely nervous throughout the night after receiving harsh critiques from the judges. After Heejun was told he was safe, his best friend Phillip Phillips came forward and gave him a big hug. Aw!