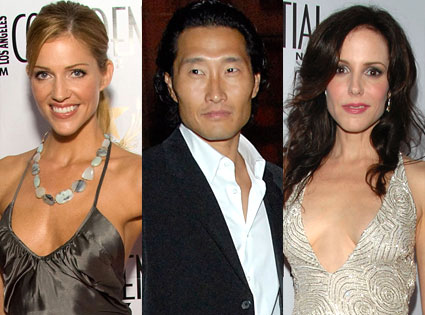 Chelsea Laure/Getty images, AP Photo/Dan Steinberg, Stephen Shugerman/Getty Images
Emmy weekend is a veritable smorgasbord of TV scoop! At yesterday's pre-Emmy gift lounges and parties, including the Entertainment Weekly/Revlon party at the Beverly Hills Post Office building, the HBO Luxury Lounge at the Four Seasons Hotel in Beverly Hills, and the Los Angeles Confidential magazine bash at Les Deux in Hollywood, I talked to some of our favorite stars and caught up on their lives and on what's to come on their shows.
So much more dish to come from these events (so much that my head is positively swimming!), but for now, I can tell you what Daniel Dae Kim knows about the impact of moving the Lost island, why Mindy Kaling thinks this season of The Office is major sexytime, and what Tricia Helfer knows about the final Cylon...
1. LOST: At the Entertainment Weekly/Revlon pre-Emmy party in Beverly Hills, Daniel Dae Kim spilled a little tidbit about the "very bad things" that supposedly happened to the Left Behinds after the Oceanic Six were rescued: "There are definitely consequences to moving the Island. There are some that will pay a heavy price. Some people will suffer physically, some will suffer psychologically..." And at the HBO Luxury Lounge at the Four Seasons Hotel, Jorge Garcia dished that when he got the first scripts for season five he was "shocked" and that Hurley has some big changes in store this season...
2. THE OFFICE: According to Mindy Kaling, this season of The Office is all about gettin' jiggy: "This is definitely the most scandalous season of The Office, for a lot of characters. I, this past week, had so many makeout scenes I can't even tell you. I can't say with who, but my parents can't watch this episode, because Kelly's doing so much making out."
3. DEXTER: Julie Benz and Valerie Cruz (who plays Jimmy Smits' wife on Dexter this season) have become really good friends in real life (just as their characters become good friends). They told me that to show off their best-friendiness, they bought matching unicorn necklaces—and then they got matching rashes from the metal!
4. CHUCK: According to Zachary Levi at the EW bash, where the Seagate-sponsored deejay spun everything from Neil Diamond to Kanye West, it's very likely that we'll meet one of the Bartowski parents on Chuck this season. "I'm not at liberty to say which one, but I think it's going to happen."
5. BATTLESTAR GALACTICA: The ragtag fleet reassembles! According to Grace Park (love her!) at the EW party, several Battlestar Galactica castmembers—including Park herself, her real-life husband and her onscreen BSG husband, Tahmoh Penikett—are living at Jamie Bamber's house in Studio City while Family Bamber is in London for Bamber's gig on Law & Order: UK. And over at the Los Angeles Confidential pre-Emmy party sponsored by Sapporo beer and Belvedere vodka, Tricia Helfer spilled, "We will find out who the fifth Cylon is a lot earlier than the series finale—it comes up early in the last 10 episodes."
6. ONE TREE HILL: Don't worry, fans of Q. According to Robbie Jones at Les Deux, "There's more Quentin to come" on One Tree Hill.
7. BURN NOTICE: Jeffrey Donovan told me at the EW party that during the winter-season episodes of Burn Notice, Michael Weston and Carla finally have a showdown—and one of them gets shot.
8. WEEDS: The woman of the hour at the Borgata and Le Vian-sponsored Los Angeles Confidential party was Mary-Louise Parker—she's their September cover girl—and when I asked about the possibility of a Nancy-Andy romance on Weeds, she said that she didn't feel it was "inappropriate." Yay. I love the chemistry between Mary-Louise and Justin Kirk.
9. PRIVATE PRACTICE: According to Audra McDonald at the Los Angeles Confidential party, the practice is in major financial trouble this season. She says, "We are on episode 11, and we still don't know if the Oceanside Wellness Center is going to make it."
10. 24: Jean Smart told me at the HBO Luxury Lounge that she has told the producers of 24 that she wants back on the show. "I will shave my head and wear a straitjacket, mumbling in Russian, just to get back on 24." Come on, guys—that's an offer you can't refuse!
11. 90210: At the Los Angeles Confidential bash, Ian Ziering, aka the original 90210's Steve Saunders, says of Kelly's son, "The kid may be Dylan's, but he looks like me!" Hmmm...
So much more to come, but have to run now and get ready for the red carpet! Post your reaction to this dish in the comments!
—Additional reporting by Jennifer Godwin, Natalie Abrams and Megan Masters