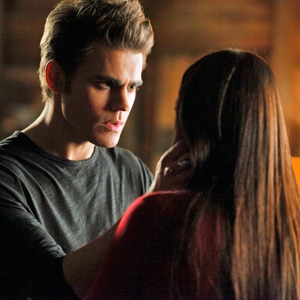 Quantrell D. Colbert/The CW
Prepare yourselves, Stefan (Paul Wesley) and Elena (Nina Dobrev) fans: your ship is about to get rocked!
The Vampire Diaries finally returns to us tonight (wheeee!) and we feel like we should warn some of you now: the love triangle takes a backseat. Not that you'll probably notice as "1912" offers up one of the series' most shocking twists ever. But fret not, romance lovers: season three's final string of episodes will be chock-full of shipper goodness. How do we know this?
We chatted with Paul Wesley about what's ahead for Stefan and Elena, including a "heartbreaking" conversation, and the return of Stefan from seasons past. Plus, will Stefan be getting a new love interest in the love triangle swings in Damon's (Ian Somerhalder) favor?
In tonight's episode, viewers will see Stefan begin his battle with moderation, with Damon leading the human blood drinking-train. "[Damon] tries to become that sort of mentor in a way in getting Stefan off the path of extremity and teaching him moderation," Wesley teases. "It all kind of comes to a head and it doesn't work out too well."
Though Stefan will not have an easy time with it, Wesley says the process will lead him back to Elena. "The more he deals with moderation, the closer he grows to Elena. He was so involved in his own darkness, he didn't have any time for romance. As the episodes progress, the audience is going to see Stefan maybe becoming more like he was season one and two, sort of the romantic lead hero."
Still, Wesley stresses that Stefan will always have that dark side ready to consume him at any moment. "What's really important is to make sure that Stefan always has a flaw and that he always has that potential darkness because I think the minute we make Stefan the same Stefan as season one, it becomes a little predictable."
While Wesley says there is still "big time" hope for Stefan and Elena's relationship, he gave us a little insight into an upcoming scene in episode 18 that may just break a few hearts. (Stefan and Elena scenes sometimes have a tendency to do that, don't they?)
"It's one of those things were they look at each other say, 'Hey, maybe this is too late. Maybe it's too late to actually salvage this.' I think it's two people who really love one another very deeply getting to a place of resolution about the fact that there may be no hope," he explains. "They have to conquer that. And I'm not saying they do because they certainly don't. I'm filming episode 21 right now and it's not like they're a lovey-dovey couple. But what I'm saying is the more truthful they are about what has happened, the more grim it is. But at the same time, it's more intimate because they're sharing these truths with one another."
Since there is a 50-50 chance Stefan could end up the loser (for now) in the epic love triangle, Wesley says he'd like to see a new love interest for the youngest Salvatore brother. "I think it's really important. I don't want to say that and anger anyone, but it's really important for Stefan to have another love interest," he tells us. "At least just for a moment or two. I really believe that every character on this show needs to have another love interest at point or another, including Elena and Stefan."
Wesley's suggestion?  "I think Stefan should potentially have a love interest with someone who's maybe just as dark as he is at times."
The Vampire Diaries airs tonight at 8 p.m. on the CW. Make sure to check back with us after tonight's episode for scoop on the game-changing twist!
Would you like to see Stefan and Elena get back together? Who do you think should be Stefan's next love interest? Sound off in the comments!