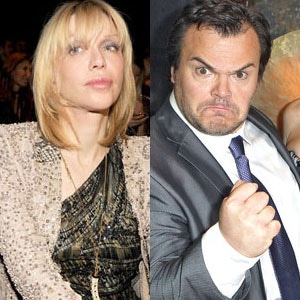 Pier Marco Tacca/Getty Images; Flynetonline.com
Leave it to Courtney Love to pick a fight with Kermit the Frog.
The Hole singer lashed out at the new Muppets movie earlier this week, telling TMZ that she felt they "raped" the memory of Kurt Cobain with its peppy G-rated cover of Nirvana's "Smells Like Teen Spirit."
Jack Black, who appears in the scene that features the song, isn't buying Love's trash talking…
"I beg to differ," Black told me yesterday at South by Southwest, where he was promoting his upcoming black comedy Bernie and performing with his band, Tenacious D. "That's absurd, absurd, absurd."
Black says he would never do anything to tarnish Cobain's legacy.
"I personally hold no one in higher esteem in the world of rock," he said. "Kurt Cobain for me is at the top of the pyramid. He was the king…When he died it was sort of the end of rock."
In much happier children's movie news, Black says he'd love to make a third Kung Fu Panda movie with Angelina Jolie.
"I hope we do," he said. "The films were really good, but that's not in my control. That's up to the powers far above me. Who knows—it could be Kung Fu Tiger next and I'm out of it. You never know."