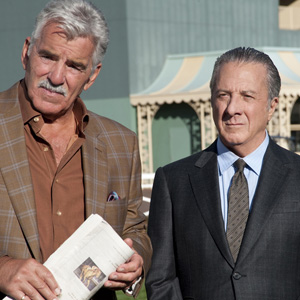 Gusmano Cesaretti/HBO
After the tragic death of a third horse on the HBO series Luck, the network has decided to cancel all future production on the series.
HBO cites safety concerns as the primary reason for the halting production on the horseracing series starring Dustin Hoffman…
Despite already getting a second-season pickup, Luck will no longer be making new episodes for the foreseeable future.
"It is with heartbreak that executive producers David Milch and Michael Mann together with HBO have decided to cease all future production on the series Luck," the network says in a statement. "Safety is always of paramount concern. We maintained the highest safety standards throughout production, higher in fact than any protocols existing in horseracing anywhere with many fewer incidents than occur in racing or than befall horses normally in barns at night or pastures. While we maintained the highest safety standards possible, accidents unfortunately happen and it is impossible to guarantee they won't in the future. Accordingly, we have reached this difficult decision."
The network continues: "We are immensely proud of this series, the writing, the acting, the filmmaking, the celebration of the culture of horses, and everyone involved in its creation."
Executive producers Michael Mann and David Milch also released a statement regarding the canceled production: "The two of us loved this series, loved the cast, crew and writers.  This has been a tremendous collaboration and one that we plan to continue in the future."
This announcement comes hours after the news of a third horse death on set hit the Web. "Tragically, this morning, one of the horses in Lucks stable suffered an accident while returning to the stall," HBO told E! News in a statement. The network was sure to point out that they were mindful of all safety matters during the incident. "An American Humane Association Certified Safety Representative was on the premises when the accident occurred, and all safety precautions were in place," adds the network. "HBO and everyone involved with the production are deeply saddened, and are working in full cooperation with the AHA and the CHRB to complete their inquiry."