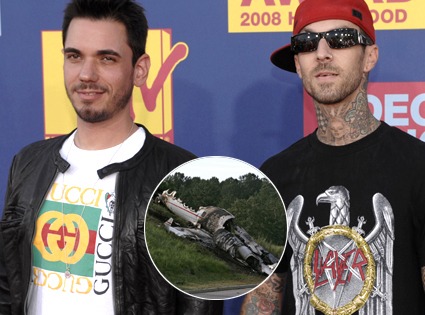 AP Photo
Former Blink-182 drummer Travis Barker and Adam "DJ AM" Goldstein, the turntable star once engaged to Nicole Richie, are the only survivors of a late-night Learjet crash in South Carolina that killed the other four on board.
A rep for the Joseph Still Burn Center in Augusta, Ga., tells E! News that Barker, 32, and Goldstein, 35, are in "critical but stable condition. Barker arrived by ground transportation while DJ AM had to be airlifted to the hospital, where he is currently in surgery, sources close to the celebrity disc jockey tell E! News.
The four victims have been identified by the Lexington County Deputy Coroner. They are pilot Sarah Lemmon, 31, of Anaheim, Calif.; her copilot, James Bland, 52, of Carlsbad, Calif.; Barker's assistant, Chris "Little Chris" Baker, 29, of Studio City, Calif.; and Barker's security guard Charles Still, 25, of Los Angeles, Calif.
The Lear 60 was headed to Van Nuys, Calif.
Barker and AM blend drum beats and dance beats under the name TRVSDJ-AM, and had just finished playing a free T-Mobile concert in Columbia with Gavin DeGraw and former Jane's Addiction frontman Perry Farrell.
Both were also part of the house band at the 2008 MTV Video Music Awards.
Initial investigations at the crash site have concluded, a rep for the National Transportation Safety Board confirms to E! News.
"We're just leaving the scene of the accident right now," said Peter Knudson of the NTSB, who added that another press conference is scheduled for 5 p.m. EST.
Of the crash, Knudson told E! News:
"At 11:53 p.m. last night, a Lear 60, which is a twin-engine business jet, departed from Columbia Metropolitan Airport on runway 11. It overran the runway and went through a grassy, overrun area. It came in contact then with airport lights, an antenna array, through the airport perimeter fence, crossed a road and came to rest on [an embankment] on the other side of the road."
On impact, the plane caught fire.
MSNBC tapped into a local South Carolina affiliate and reported this eyewitness account. A local man saw what he termed "a fireball rolling across the highway."
Once he realized it was an airplane, he pulled over and approached the scene to help, nothing that jet fuel was strewn across the five-lane road.
He then reported seeing two men who were "basically dumped out of the airplane upon the crash, who were standing in the road on fire, hitting each other trying to put the fire out."
He also attempted to "get in the plane to see if [I] could help anyone else, but the flames at that point were just too bad."
NTSB could not confirm that eyewitness report. "We are documenting the accident site, talking to witnesses, getting information. We have specialists down here in a human factor and survival factor," Knudson added.
"This will take about four to seven days, and then we go back to Washington and there's a lot more work there."
(Originally published Sept. 20, 2008 at 7:05 a.m. PT.)