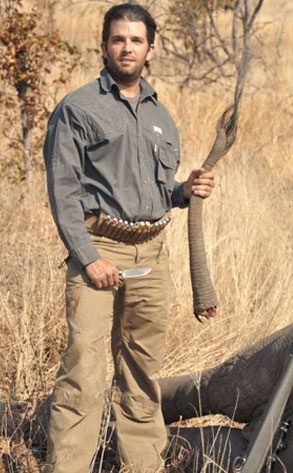 huntinglegends.com
If the real estate business doesn't work out, Donald Trump Jr. and brother Eric could have a future in head-hunting.
The Trump family is holding its ground in the face of harsh criticism from PETA and the Twitterverse in response to newly released photos from an African safari the brothers went on last year—during which they hunted and killed a number of animals, including an elephant.
"If the young Trumps are looking for a thrill, perhaps they should consider skydiving, bungee jumping, or even following in their anti-hunting father's footsteps and taking down competing businesses—not wild animals," PETA said in a statement to E! News.
So, how did Eric and Don Jr. respond?
"We are both avid outdoorsmen and were brought up hunting and fishing with our Grandfather who taught us that nothing should ever be taken for granted or wasted," they said in a joint statement to E! News.
"We have the utmost respect for nature and have always hunted in accordance with local laws and regulations. In addition, all meat was donated to local villagers who were incredibly grateful. We love traveling and being in the woods—at the end of the day, we are outdoorsmen at heart."
PETA continued, however: "Like all animals, elephants, buffalo, and crocodiles deserve better than to be killed and hacked apart for two young millionaires' grisly photo opportunity. If the Trumps want to help villagers, they have plenty of resources at their disposal."
When pointedly questioned by multiple people on Twitter, Don Jr. insisted that he wouldn't have just killed the animals for sport.
"As a hunter I love wildlife too," the Donald's eldest son tweeted to a query from E! News about the outcry over his actions. "And btw I bet the money I spend on license fees that goes back to the animals is a lot more than the antis give for sure."
"Hunters don't do that Villagers who have no meat enjoyed that for weeks and were very grateful," he tweeted to one particularly concerned user named @LadyAmazon4ever, who had tweeted to him, "@DonaldJTrumpJr If you are not hunting for food then its not hunting its a slaughter. As much as I love the show I can no longer watch."
"I just dont see why @DonaldJTrumpJr would cut the tail off the elephant he just killed & pose for a pic with it," wrote @Tatt2Crazy.
Don replied, "The villagers did that apparently its a tradition that dates back to the ivory hunters 100-150 yrs ago as proof of the hunt."
"Did you feed the tail that you cut off to the village also? You didn't hunt an elephant 4 food, u killed it b/c u could," fired off @1979PinkTransAm.
"If the meat is all used what's the difference? These are not endangered animals as an fyi," replied Don.
And to @cherirouse, who called the Celebrity Apprentice star "full of s--t" and a "p---y: "The opinion of someone who has vegetarian in their bio as that defines them so profoundly means little to me."
The unapologetic scion is currently traveling to Brazil on business.
—Reporting by Sharareh Drury