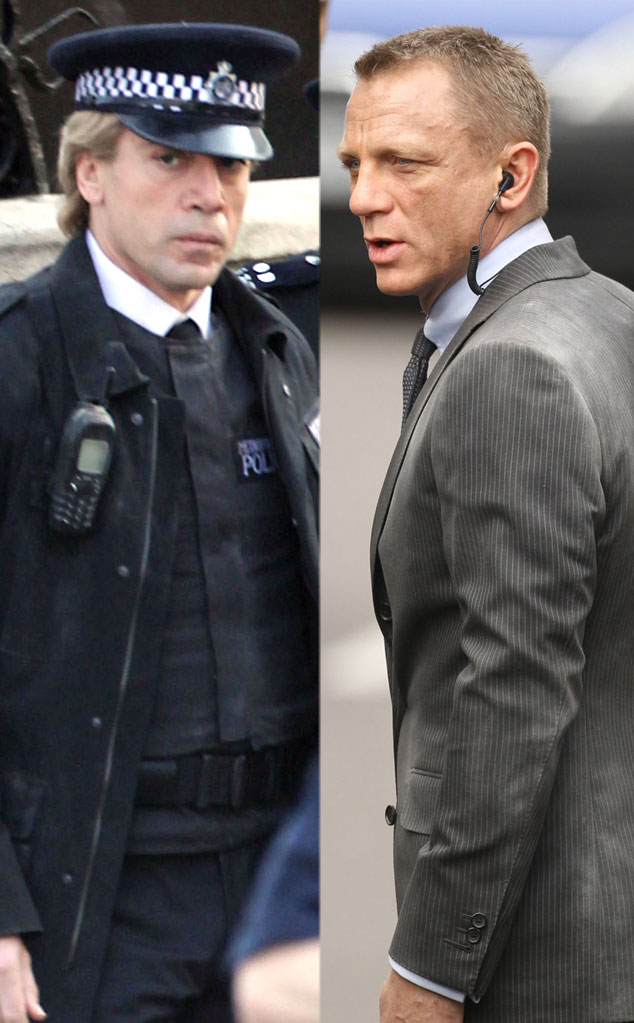 Flynet UK/FameFlynet Pictures
There's no scary bowl cut for Javier Bardem this time. But as James Bond's latest villain, he appears creepy enough as a blond.
New photos from the set of the latest 007 adventure, Skyfall,  hit the Web today and from the looks of things, the odds may be stacked against Daniel Craig's suave secret agent if he doesn't play his cards right.
So what's Bond's new nemesis up to ?
In pics published by the U.K.'s Daily Mail, the Spaniard, who won an Oscar for his terrifying performance as a psychopathic hit man in 2007's No Country For Old Men, is seen decked out in a police uniform on the streets of London and sporting the new 'do.
Given the plot's more closely guarded than Fort Knox (sorry Goldfinger), it's a big mystery whether Bardem's character is really is a beat cop or whether he's donning a disguise.
As he's said to be the main baddie, we're betting on the latter.
At any rate, the pictures are the first time Bond fans have had a chance to size up his new archenemy.
As for the MI6 man himself? Despite being MIA on the big screen since 2008's Quantum of Solace, the critically maligned follow-up to the 2006 mega-successful reboot Casino Royale, Bond is looking as vigorous and magnetic as ever. The snapped-on-set images find Craig wearing a flawlessly tailored grey suit along with an ear pierce we presume to aid him on whatever undercover mission he's on, his 23rd by the way.
Skyfall, which also costars Ralph Fiennes, Judi Dench and Albert Finney, hits theaters on Nov. 9.