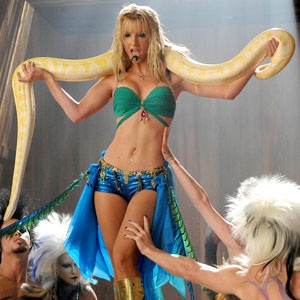 Adam Rose/FOX
Heather Morris probably isn't feeling too gleeful today.
The Glee star is apparently the latest celeb to fall victim to hackers after a series of racy photos purportedly of the actress (or someone bearing a remarkable resemblance) leaked online yesterday.
The scandal comes on the heels of photo leaks last week involving Christina Hendricks and Olivia Munn, who both indicated that not all of those pics were legit.
But what about Morris' photos?
The images include a series of salacious cell phone self-portraits, in a variety of poses. Some photos feature her parading around in two-piece athletic gear. Others show her modeling a variety of outfits, including a skimpy "I'm a Slave 4 U" bikini similar to what Morris wore in Glee's famous Britney Spears episode.
Still others feature the woman completely clothes-less, striking a series of seductive poses.
E! News has reached out to Morris' reps, who have yet to comment.
According to the site CelebSlam, which first published the images, a tipster sent the photos. The site claims they're legit, citing a tattoo on the woman's back that matches one that Morris has flashed in previous photos.
Morris is no stranger to au naturel photos. In 2010, revealing snaps from a pre-Glee professional modeling shoot found their way online. The star, however, took the release in stride.
"I kind of thought it might happen," she told Extra about that leak. "I understand completely where it came from. For me, I think they are beautiful. It's not something I'm ashamed of. Everybody should do tasteful beautiful nudes, so when you get older you're gonna be like, 'Oh, that's when my body looked so great!' "
At least she still has that going for her. Now about her cell phone account...