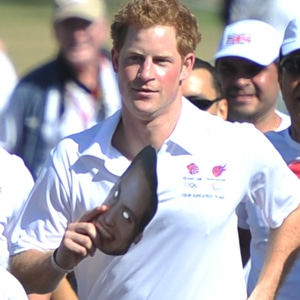 CHRISTOPHE SIMON/AFP/Getty Image
While on his solo international tour, Prince Harry has been having a royal good time doing everything from poking fun at his brother Prince William during a charity race to dancing in the Bahamas. And he's done it all with a smile on his face. 
In an interview with the U.K.'s Telegraph, Prince Harry opens up about his sense of humor, which he says he got from his grandmother Queen Elizabeth.
No, really!
"She is very funny but I think she gets it from my grandfather," Prince Harry says of the queen. "They are very funny together. My family is the same as any other family when it comes to humour behind closed doors, though I'd like to think I was funnier than my grandmother."
Prince Harry, who has been on the 10-day tour in honor of the queen's Diamond Jubile, said he expected to have a good time visiting Belize, Jamaica, the Bahamas and Brazil, saying, "We knew how fantastic these countries would be; I've never taken myself too seriously. I've had a gas."
The prince reveals he spoke with the Queen just before departing on the solo tour. "We had a great chat. She wished me luck and she said 'Enjoy it, I hope you do me proud,' " he explains. "It was a typical grandmother to grandson chat. I just hope that my grandmother is proud of what we've done."
Prince Harry says he's "humbled" by the reception he's received on his trip and admits he was overwhelmed by the response. "I personally had no idea how much warmth there was towards the Queen. To me that's been very humbling and I was actually quite choked up seeing the way that they're celebrating her 60 years," he says. "She's thousands of miles away and yet they celebrated her in the way they did and made me feel so welcome, so I couldn't thank them more."