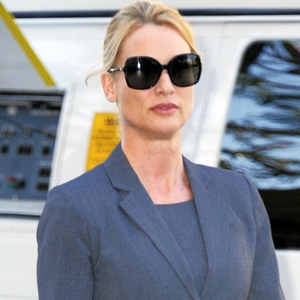 Suntzulynn for LE / Splash News
Marc Cherry insists he did not give Nicollette Sheridan a "wallop on the head," as she says he did.
When asked by his attorney Thursday in court to describe his version of what went down on Sept. 28, 2008, the Desperate Housewives creator testified that he "tapped her on the side of the head" while trying to be...
Funny?
Cherry recalled that Sheridan approached him to discuss why he'd cut a humorous line she was supposed to say to her onscreen husband to close a scene. The line, which quoted a Beatles song, was going to be expensive to license, so Cherry said that he told Sheridan that he wanted Edie Britt to do some physical comedy instead.
Sheridan looked "confused," Cherry said, so he "tried to help her" by demonstrating what he meant.
"I tapped her on the side of the head," he testified, after which Sheridan got an "odd look" on her face and yelled at him, "You hit me!" before storming off.
"What the heck just happened?" Cherry recalled saying to director Larry Shaw, who, he said, replied to Cherry, "Yup, directing is hard."
Cherry described his assistant driving him over to Sheridan's trailer so he could get her back on the set. "I didn't feel comfortable being alone with her in that trailer," he said.
Cherry maintained that he was not "agitated" with Sheridan in the weeks leading up to their run-in, as the actress alleged in her testimony. She claimed that Cherry hit her "upside the head" when she tried to discuss her script concerns with him and that she didn't report the incident to ABC honchos because she feared "retaliation" from her boss.
An internal investigation eventually got underway after then-ABC executive Mark Pedowitz saw a story about the allegedly scandalous incident in a tabloid—and Cherry says he had no problem with that.
"I wanted there to be an investigation because I wanted everybody to know what happened," Cherry testified today.
Though he insists the decision to kill off Edie Britt was made at least four months before their argument, Cherry said that he waited to tell Sheridan until Feb. 10, 2009—the "last possible second to tell her because the script came that night and we were to shoot the next day."
Cherry denied Sheridan's claims that he "just" came to that decision, and that he had been considering the death of another character, as well, before settling on Edie.
Also today, Sheridan's attorney read aloud an email sent from Cherry's assistant, Jason Ganzel (who drove his boss to Sheridan's trailer on the day in question) to Desperate Housewives executive producer Sabrina Wind.
"Marc was showing Nicollette how to play her exit of the scene and they just finished rehearsing," Ganzel wrote, per the email text. "As they were going over the different buttons to the scene, Marc was demonstrating one of the options which included tapping Nicollette on the head. She asked that he not touch her and stormed off the set. Marc and I went to her trailer where Marc apologized. She forgave him and said she understood that he was just showing her how to play the button of the scene."
Wind testified that she didn't remember who wrote Edie's ultimate death scene, in which she's electrocuted after crashing her car into a utility pole.
"The idea that nobody would expect us to kill off a character of that magnitude" contributed to the idea to kill Edie, Wind said, adding that they could "play up that Edie was a bitch and had alienated the rest of the neighborhood."