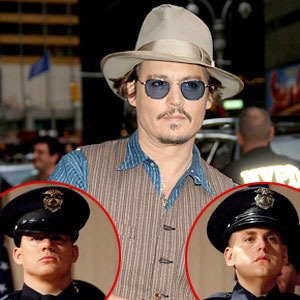 Columbia Pictures; BLACK/startraksphoto.com
Where in the world is Johnny Depp?
By now you've probably heard that the superstar appears in the upcoming 21 Jump Street flick, Jonah Hill and Channing Tatum's reboot of the television series that launched Depp's career.
We're not spilling on who he plays (don't want to ruin the surprise!), but we can tell you...
He did not reprise his original role of Officer Tom Hanson for the movie (in theaters March 16).
In fact, Depp goes completely unrecognizable—until the big reveal, that is.
I'm told he spent about three hours in makeup for the transformation for the one-day shoot.
"Even the crew on set didn't recognize him," a source reports. "They were telling him what to do and giving him all sorts of direction like he was one of the extras."
The part was apparently written specifically for Mr. Depp.
New Girl star Jake Johnson, who plays the high school principal in 21 Jump Street, told us back in October that Depp's appearance was "more than just a moment."
It certainly is.
P.S.: 21 Jump Street will premiere at South by Southwest on Monday. I'll be there getting you all the scoop!
Now we want to hear from you. Excited for the 21 Jump Street movie? Chime in below.