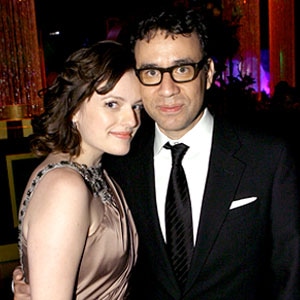 Mathew Imaging/Getty Images
Elisabeth Moss has been pretty tight-lipped about her short-lived marriage to Fred Armisen since the divorce became final nearly a year ago—until now.
For the first time, the Mad Men star is opening up about why she and the Saturday Night Live funnyman didn't last—and let's just say she wasn't too complimentary to her ex...
"It's so hard to talk about," Moss tells the New York Post's Page Six.
"One of the greatest things I heard someone say about him is, 'He's so great at doing impersonations.' But the greatest impersonation he does is that of a normal person," she admitted. To me, that sums it up."
Ouch. 
"I've never told anyone that," she added. "And I don't want to waste any more of my life talking about it," she added.
Moss and Armisen first met during her cameo on SNL when Mad Men costar Jon Hamm was hosting back in 2008. The two quickly hit it off and tied the knot in a secret ceremony in Long Island City in October 2009.
Unfortunately, the union fizzled after a mere eight months, and Moss and Armisen separated in June 2010. She filed for divorce that September, citing irreconcilable differences.
Asked whether the two keep in touch, the actress was candid: "Oh, God, no."
Moss, who plays buttoned-up secretary turned copywriter Peggy Olson on AMC's hit drama, also revealed what she's looking for in a man (obviously not a dead-on impression of Prince and President Obama).
"Honesty, honesty, honesty," she said—though at the moment she's happy to be single. "I obviously want a partner in life, and I want someone to grow old with, but there's also a nice time when you're young to enjoy being you. It's fun to go out at night and not know what's going to happen."
As for her seemingly conservative alter ego, Moss calls Peggy "the truest feminist," something that resonates with her as well.
"It's the feminism of, 'Hey, I just want to do what I love, and I think I should get paid the same amount for doing it if I do as good a job as a man,'" noted the 29-year-old thesp.
Speaking of jobs, after a long hiatus due to protracted negotiations between creator Matthew Weiner and AMC over Mad Men's renewal, the long-awaited fifth season is set to premiere March 25.