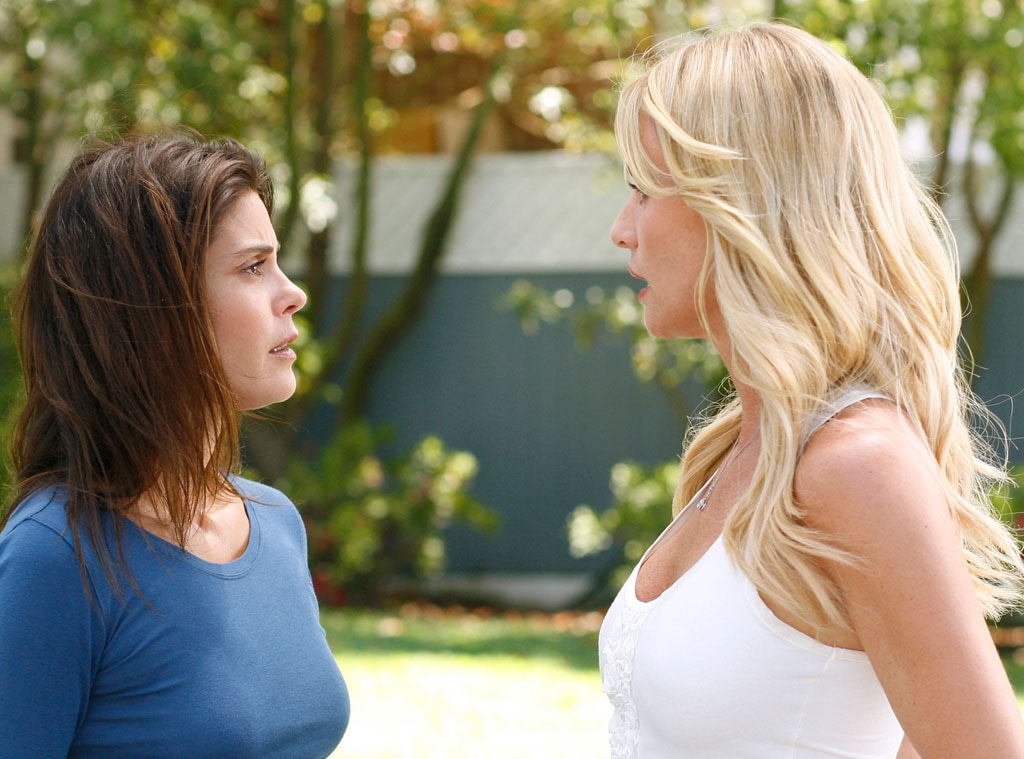 ABC/Ron Tom
Nicollette Sheridan, method actress?
Desperate Housewives creator Marc Cherry testified Wednesday that the actress who's suing him and ABC for wrongful termination and assault was a negative presence on the set for years before plans were actually in motion to kill of Sheridan's character, Edie Britt.
Back on the stand after a day off due to scheduling conflicts, Cherry recalled intervening in a fight between Sheridan and Teri Hatcher during the hit series' Emmy-winning first season.
Sheridan told him that Hatcher was the "meanest woman in the world," Cherry testified.
The defense has argued that Cherry planned months in advance to eliminate Edie in season five, then have the aftermath of her death be a key plot point. Documents obtained by E! News show an outline purportedly made during a May 2008 writers retreat in which Cherry has Edie being murdered by her loony husband, Dave (Neal McDonough).
"The purpose of the character was going to be over," Cherry said. He was looking ahead to the end of season five to plan an "interesting way to end the character's time on the show in a shocking way for fans."
Sheridan, meanwhile, maintains that Cherry had assured her that her job was safe when scripts started coming in for season five, and that he and ABC didn't conspire to get rid of her until after her accusation hit the tabloids that Cherry hit her "upside the head" during a fight that September. An internal investigation by ABC cleared Cherry of wrongdoing.
Cherry insists that isn't the case, that another writer pitched the idea of killing off Edie as early as the third season, but network executives felt that more could be done with her character. (CW president and former ABC exec Mark Pedowitz testified to that yesterday.)
The idea of killing Edie "hit me like a ton of bricks," Cherry said today, "because I had never considered killing off a bigger character before." The idea of offing Edie was "shocking, but fascinating" as far as the ramifications it would have for the characters still alive and well on Wisteria Lane.
But Pedowitz and Steve McPherson, then president of ABC Entertainment, didn't go for it.
"The scene was in my head that at some point we could kill the character," Cherry said. "I am always looking for new ways to garner publicity for the show."
Pedowitz said yesterday that he signed off on Edie's demise in May 2008, his approval having been necessary because Edie was a major character.
But Cherry said today that he considered Edie to be a "series regular" rather than "one of the main characters," one whose absence would do more to drive the plot than her continued presence.
The "primary reason I killed off the character was I thought creatively it was the best thing for my show," he added, saying that it also saved the show money and made for a nicer environment on the set.
Cherry testified that Sheridan would come to work not knowing her lines and make "insulting comments" during table reads.
Oddly enough, Hatcher was the only main cast member not on the Cherry camp's list of potential witnesses. Eva Longoria, Marcia Cross, Felicity Huffman and James Denton were all accounted for.