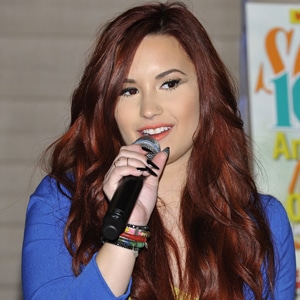 John Sciulli/WireImage
"If you took away music, I wouldn't have a reason to live."
That was one of the many raw and honest things a brave Demi Lovato said during her Stay Strong special on MTV tonight.
After undergoing treatment in October 2010 for eating disorders and self-cutting, the "Skyscraper" singer (really) opened up to viewers about her journey through it all.
And when we say Lovato was putting it all out there, we mean it...
"I cannot tell you that I have not thrown up since treatment. I cannot tell you that I have not cut myself since treatment. I'm not perfect."
Lovato, who was also diagnosed with bipolar disorder while in treatment, admits that this is an ongoing battle that she will have to work through every single day, and that the negativity she saw within herself started at the young age of 7.
The Disney star explained that she'd be "looking in the mirror and never feeling good enough. I felt like I was living a lie...I was dealing with all this pain, emotionally. And I felt guilt and shame. I decided to take it out on myself. I harmed myself."
Demi even shared that she had to continuously be on the phone with her sponsor during Thanksgiving so that she wouldn't throw up her meal. Thankfully, she made it through, but expressed that she felt guilty the next day.
"An addiction is an obsession, something that takes over your mind and your every thought. You think that you can't live without it. For me, it was not eating and purging and self-harming."
Luckily, Lovato found solace with her music and her fans, the Lovatics.
"Every time someone asks me for a picture or an autograph, even if I'm having a bad day and I'm in a bad mood, I remember, 'You're nothing without this person,'" she said. "They make it special."