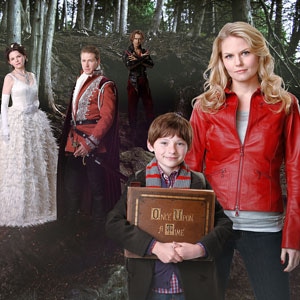 ABC/CRAIG SJODIN L
Is there anything more satisfying than a happy ending?
Before you let your mind wander where we didn't intend it to (or did we?), we have conjured up an answer to one of your burning Q's from Once Upon a Time's big bosses. (We aim to please! Again, not in that way.) We've also got inside intel for you on shows like The Walking Dead, Parks and Recreation, The Secret Circle, Covert Affairs, The Vampire Diaries and more! 
Dig in to your daily serving of TV scoop...
Kit4atw: Any news on Belle and Rumple on OUAT?
When we caught up with executive producers Adam Horowitz and Edward Kitsis, our number one question was whether Mr. Gold (Robert Carlyle) will come face-to-face with his Belle (Emilie de Ravin), who is currently in a padded cell, by season's end? "All I can say is Emilie is coming back onto the show," Horowitz teases. "We're very excited to have her back." Kitsis ominously adds, "And God help whoever did that to her!"
CamJo: Anything on The Walking Dead? I've been biting my nails since Sunday's shocker.
Get yourself to a manicurist, stat, because this Sunday's installment, "Better Angels," might make you chew your fingers off. Get ready for the ultimate showdown—and confirmation of something we've long suspected about the walkers. Epic does not begin to describe this season's penultimate episode.
ajgilgis: Any news on Burn Notice? Anything at all would be greatly appreciated.
Let's just say Fiona (Gabrielle Anwar), who was arrested in the final moments of the season-five finale, will not exactly be making friends in jail when we catch up with her in the premiere. In fact, she finds herself an enemy in the form of the self-appointed "Queen of the cellblock." This should end well!
shaneo693061: Vampire Diaries scoop? Preferably concerning the return go Jeremy aka Mystic Falls' hottest little brother?
Well, Julie Plec has confirmed that we will see Steven R. McQueen on the show before season's end, so yay! Plus, do you remember how Jeremy was known to dabble with drugs in the beginning of the series, as a way to cope with his parents' death? Well, in the highly anticipated flashback we told you about yesterday, it turns out Jer was partaking in some recreational activities unfit to go on his college apps that his parents were well aware of. 
Ronnie: I've been missing Big Bang Theory spoilers!
We just got wind of this awesome BBT storyline that'll surely be both funny and poignant. Someone in the group is going to be propositioned by a member of the opposite sex, but not in the way you think. No, this person wants one of our Big Bang buddies to be their beard so they don't have to come out with their true sexual preference. And no, it's not Max from Happy Endings.
anon: SECRET CIRCLE SCOOP PLEEEEEASE!!!
Why don't we take it down a notch there, All-caps Spice?! How's this for some scoop? Jake (Chris Zylka) still pines for Cassie (Britt Robertson), despite the fact that she's with Adam (Thomas Dekker) and he recently hooked up with Faye (Phoebe Tonkin). "Jake loves Cassie so much that he'll be friends with her no matter what, but he definitely wants more," Zylka teases. "I think it's going to be more and more trying to prove that he's trying to protect her and that he's sorry." As for Jake and Adam, Zylka says fans will see an almost "brotherly love" begin to form between Cassie's leading men. All together now: Aww!
Conor in East Islip, N.Y.: I am really missing MTV's Awkward.! Please tell me you haven't forgotten about it!
Never! In fact, we're counting down the days until the snarky and awesome series returns. While Jenna (Ashley Rickards) and Jake (Brett Davern) will definitely still be an item when Awkward. returns, their relationship will be threatened when a tape of Jenna's past hook-ups with Matty (Beau Mirchoff), Jake's BFF, may be leaked to the whole school. Expect Jenna to go to some extreme lengths to keep this secret from her new boyfriend. 
Sally: Any Covert Affairs scoop you'd care to share?
Annie's (Piper Perabo) getting a new mentor...and a new love interest! Talk about spoiled. Two new characters will recur on the USA Network hit's third season: Lena will be a confidant for Annie, one who may be harboring some secrets, while Simon will be bringing tension of the sexual kind to his happenings with the blonde operative.
Theresa: What's the word on Parks and Recreation?
We have exclusive scoop and videos coming later today from last night's PaleyFest, but for now we can tell you that Glee's Mike O'Malley will be guest starring, there could be a new couple in the works (one we love the sound of!), and the finale sounds super surprising. So check back for that.
—Additional reporting by Jenna Mullins, Tierney Bricker and Drusilla Moorhouse