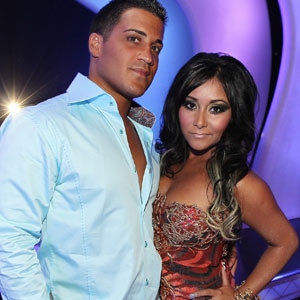 Getty Images
We could only imagine what Snooki's wedding is going to look like.
The pregnant Jersey Shore star was thinking about her dress even before her baby-daddy boyfriend, Jionni LaValle, popped the question...
"I want an animal-print wedding dress," Snooki told me in January.
Really?
"No, I'm just kidding," she said. "I do know that I want something tight-fitting. Maybe I'll get animal-print tracksuits for us to wear after the wedding."
During a chat we had in early 2011, Snooki gushed over LaValle because he prefers to stay out of the spotlight. "He hates it," she said. "He's like, 'You do your life and I'll do mine.' "
She also said her father "loves" LaValle. "My dad texted him a little," she said. "He asked, 'What are your intentions with my daughter?' and stuff like that. He's so protective. He's Papa Snooki."
Make that Papa-in-Law Snooki.