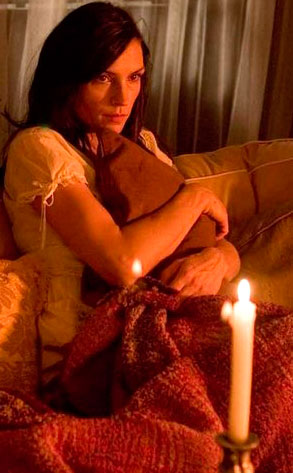 Voltage Pictures
Why are Hollywood remakes of Asian horror films not even half as scary or good as the originals?
—Alice
There's actually a sound and scientific reason why American remakes of successful Asian horror movies seem weak in their new forms. And it's not Jessica Alba.
After all, once you've seen a pasty dead girl crawling out of a TV, it's pretty tough to be spooked by her again, even if you have the attention span of a Pussycat Doll. However, not all Japanese-inspired American horror films are hopeless. A very promising one is on its way next month, and it features a sexy star whom geeks will love...
I speak of Famke Janssen, whose ghost film, 100 Feet, makes its U.S. debut at the Austin Film Festival next month. The reason many J-horror remakes don't work is because they replace creepy, homemade visual and sound effects with CG. (That's what happened in the U.S. remake of The Ring.) But in 100 Feet, which is inspired by Japanese horror, the main monster is played by a real actor, and the effects are done with minimal computer interference, making for a very believeable—and much more Japanese-y— experience.
"The handling of good Japanese-style horror films is very realistic, using 'in-camera' work rather than CGI," 100 Feet director Eric Red told me. "That's what made the original Ring and Jo-On work so well; the effects were very primitive and [there were] not a lot of special effects."
Right. That bone-breaking sound you got in the original Grudge? That was the director's voice, not a synth. Don't remember? Tune into my podcast. I'll do my Japanese ghost girl impression next week. Just for you.
Got a question about Hollywood? ASK IT!
Oh, and be my fan on Facebook, 'kay?