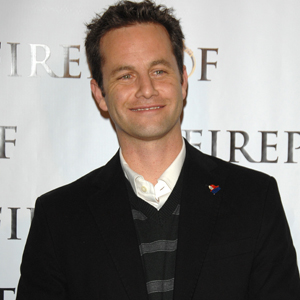 Stephen Shugerman/Getty Images for Samuel Goldwyn Films
Kirk Cameron's aggressive anti-gay comments on Piers Morgan Tonight last week ignited a firestorm of controversy, prompting celebrities to come out in support of the LGBT community and deriding the actor for what they perceive to be his incendiary views.
Throughout the fallout, the one-time Growing Pains star and self-described born-again Christian has remained mum—until now.
Cameron has come forward to defend himself against his critics. But was he successful in swaying public opinion in his favor, or did he dig himself into a deeper hole?
The star wrote in a statement on Facebook:
During the CNN interview, "I was asked to express my views about homosexuality, gay marriage, and abortion. While that was not the agreed-upon purpose of the interview, I was pleased to answer Piers' questions as honestly as I could.
"In some people's eyes, my responses were not sufficiently 'loving' toward those in the gay community. I can only say that it is my life's mission to love all people, and that I expressed the same views that are expressed clearly and emphatically throughout the Judeo-Christian scriptures. As a Bible believing Christian, I could not have answered any other way."
He continued: "I've been encouraged by the support of many friends (including gay friends, incidentally) in the wake of condemnation by some political advocacy groups. In the case of one of my gay friends, we regularly talk and have healthy and respectful debate. We learn from each other, and serve others alongside one another. I thank God for all of my friends...even when they hold very different views on issues of faith and morality. I do not, however, believe that the right way to advance our views is to resort to name-calling and personal attacks, as some have done to me. I also believe that freedom of speech and freedom of religion go hand-in-hand in America. I should be able to express moral views on social issues—especially those that have been the underpinning of Western civilization for 2,000 years—without being slandered, accused of hate speech, and told from those who preach 'tolerance' that I need to either bend my beliefs to their moral standards or be silent when I'm in the public square."
"I hope more than a few people could see the large volume of secularist morality being imposed on me," Cameron concluded. "In any society that is governed by the rule of law, some form of morality is always imposed. It's inescapable. But it is also a complicated subject, and that is why I believe we need to learn how to debate these things with greater love and respect."
GLAAD, however, was unsatisfied with the star's earlier, similar explanation to ABC News and offered its own response:
"Saying that gay people are 'detrimental to civilization' might be 'loving' in Kirk Cameron's mind, but it's gay youth and victims of bullying who truly suffer from adults like Cameron who espouse these ideas," said GLAAD senior director Herndon Graddick in a statement.
Last Friday, Cameron appeared on Morgan's show and blasted gay marriage and homosexuality for being "destructive to so many of the foundations of civilization." He also added, "I would never attempt to try to redefine marriage. And I don't think anyone else should either...So do I support the idea of gay marriage? No, I don't."
The backlash was swift and severe, with pointed pushback from everyone from Jesse Tyler Ferguson to Cameron's own Growing Pains costar Alan Thicke, who tweeted, 'I'm getting him some new books. The Old Testament simply can't be expected to explain everything."