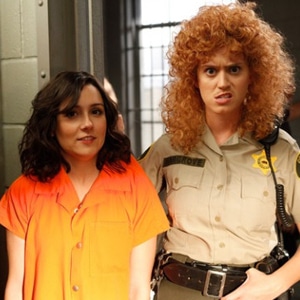 Katy Perry is hitting Raising Hope tonight and let the record show: She is totally willing to make an ugly ol' fool of herself, and it's kind of ahmahlzing! Same goes for the sit-down interview we scored of Katy and her real-life best friend (and Hope star) Shannon Woodward, who had so much fun ribbing each other while shooting on the set, we can't help but want to be BFF's with them. (If only we had the right 'stache.)
We've seen Katy with a lot of crazy looks before, but trust, you've never seen the California Girl like this…
"I feel like I've done that sexy thing so much so I think it's time to go the complete opposite: Terrifying!" Perry says with a laugh.
With a humongous orange Afro (complete with pick) and more than a hint of a mustache, Perry is pretty much unrecognizable. And according to Woodward, the facial hair is totally normal. "That's natural actually, that's not even makeup!" Snap!
Katy reveals it only took one phone call to convince her to come on the show, "I just thought it was really funny and Shannon and I like to basically d--k around at home and we thought that we would just put it in a professional atmosphere and see how it flowed."
It's been nearly a year since Katy Perry graced us with a guest spot on a comedy, and after seeing tonight's episode, we can tell you it was worth the wait.
The 27-year-old singer plays Rikki, a crazed prison guard who claims to be Sabrina's 6th grade BFF when they were in the "Little Beavers" together, but when Sabrina fails to remember their good ol' days, she is forced to re-earn her merit badges.
Even though Rikki tortures Sabrina on screen, off-screen we learned that Woodward has an even bigger fear. "I'm really afraid that I'm going to be upstaged by my best friend," the actress explained. "I'm not going to lie, she's been pretty funny! " To which Ms. Perry quickly responded: "Basically, that's your whole life!"
Feast your eyes on Katy and Shannon's funny and endearing interview below...
Make sure to check out and all-new Raising Hope tonight at 8:00 p.m. on Fox!