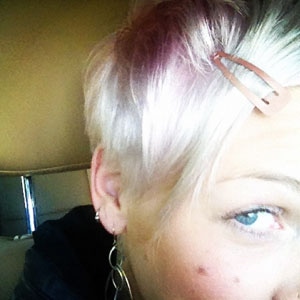 Twitter
Hair today, in song tomorrow.
Pink has taken to Twitter and posted what, at first, seemed like a cute if otherwise unnoteworthy Twitpic. Though that was before she explained the impetus behind her fair-weather follicles.
Apparently, as returns her signature pink hair color, so returns her rise back to the top of the pop heap.
That's right—she's back!
"Okay the hair is the palest pink.... You know what that means!!!!!!!!!! NEW RECORD TIME!!!!!!!!!" she tweeted last week. "Back to basics ;)
"Let's get to making some tuuuunes. Looney tunes."
Loony or not, the tunes will be Pink's first new music in four years, as the Grammy winner has been on an extended wife-and-new mom break since her last release, 2008's Funhouse.
There's no word yet on a release date or album title, but we'll be waiting. Welcome back, Pink!