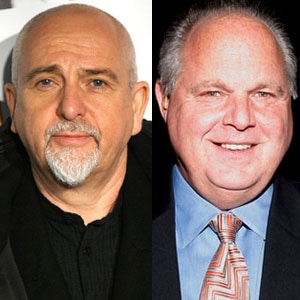 Jemal Countess/Getty Images; Neilson Barnard/Getty Images
It isn't just advertisers who want out of Rush Limbaugh's radio show. Artists do, too.
The fallout continues apace in the wake of the conservative pundit's line-crossing attack on Georgetown student and birth-control advocate Sandra Fluke, as Peter Gabriel has stepped up and demanded the radio host immediately cease using his music during his show.
As it happens, Gabriel's "Sledgehammer" provided the unwitting soundtrack for Limbaugh's infamous "slut" and "prostitute"-laced rant, and suffice it to say, the artist is none too pleased with the association.
"Peter was appalled to learn that his music was linked to Rush Limbaugh's extraordinary attack on Sandra Fluke," reads a statement on his official Facebook page.
"It is obvious from anyone that knows Peter's work that he would never approve such a use. He has asked his representatives to make sure his music is withdrawn and especially from these unfair aggressive and ignorant comments."
The British musician is the latest in a long line of those seeking to distance themselves from the scandal-stirring host, who continues to bleed advertisers in the wake of the controversy.
Despite Limbaugh's too-little, too-late apology, sponsors such as ProFlowers, Quicken Loans, Sleep Number beds, Sleep Train, Citrix Systems Inc, Carbonite, LegalZoom, Tax Resolution Services Co., AOL Inc. and the Cleveland Cavaliers have bolted, and the show has been dropped entirely by Hawaii's KPUA.
Lesson learned, then? When it comes to Limbaugh, we're not so sure.