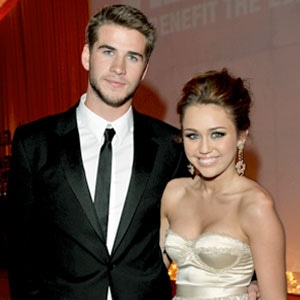 Lester Cohen/Getty Images
Miley Cyrus is a bad, bad, bad girlfriend—and we mean that in the nicest way.
Leave it to Cyrus to not only host an upcoming episode of the reboot of MTV's Punk'd, but she actually pranks her boyfriend, Liam Hemsworth!
And only we have the first look at her naked—yes, naked!—shenanigans...
In the clip, Cyrus warns, "Liam, you're about to get punk'd."
Of course, the Hunger Games hottie doesn't know that. We then see footage of a naked man and woman jumping in an SVU as Cyrus is heard saying, "Oh, my God, babe—there are two naked people in my car right now."
Hemsworth is then shown banging on the window, screaming, "Get out of the f--king car right now!"
And it gets better because then there's footage of Hemsworth and Cyrus talking to a cop.
We don't know the final outcome, but here's hoping Hemswoth has a good sense of humor.
Punk'd debuts on MTV on March 29.
Check out our exclusive first look of Cyrus pranking Hemsworth below.