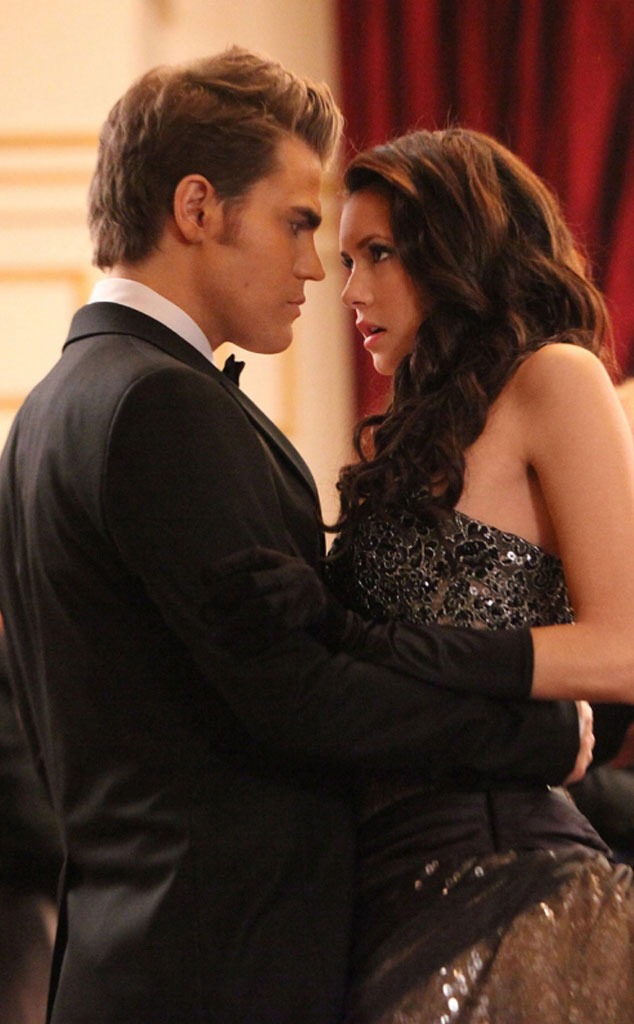 We've never met them, but they are much talked about, and now it's time to say hello to a certain epic duo on The Vampire Diaries!
How can this spell good news for Stefan and Elena fans? Plus, who's getting smoochy on New Girl and flirty on Revenge?
Dig in for all the latest TV scoop...
Greggieyeah: The Vampire Diaries scoop please! The hiatus is killing me right about now and I need my fix.
We are going to meet Elena's parents! Well, more specifically, her adoptive parents (and Jeremy's birth parents): Grayson and Miranda Gilbert. And we can only assume it is for a flashback. As you may recall, Elena's real father, John (David Anders), took his girlfriend Isobel to brother Grayson (a doctor) to help her deliver a baby, which was Elena, and whom Miranda and Grayson promptly adopted. So far we've only seen them in photos but TVD is currently casting actors who are willing to take scuba lessons for an underwater scene. Now, you remember what ghastly thing happened underwater to Elena and her parents, right? And how Stefan saved Elena's life? Sure sounds like the genesis of some kind of Stefan and Elena rekindling if you ask us! Or, you know, they're going to flash back to the Gilbert family practicing their synchronized-swim act, which would be even more awesome. We shall see.
Ollie: New Girl! How's my favorite couple Schmidt and Cece doing?
Tonight's New Girl will definitely rank among your top favorites, especially when it comes to the group's friendship. The whole gang spends the episode trying to keep Nick (Jake Johnson) from melting down after a football injury turns into something more. But back to your favorite couple: Schmidt (Max Greenfield) and Cece (Hannah Simone) do have a sweet moment that leads us to believe they could be the real deal down the line. And Nick receives not one but two kisses in tomorrow's episode. Who's the kisser? This is where we stop typing…
Hoots: So Penny and Dave aren't happening on Happy Endings?
Doesn't seem like they'll get together any time soon, especially since one of Penny's (Casey Wilson) ex-boyfriend's is going to pop up in a later episode and have a change of heart about Ms. Hartz. See what we did there? We're so clever it hurts sometimes.
Judy: Any news on Sons of Anarchy?
We've got good news and we've got bad news. The bad news is that we don't have anything for you on Sons of Anarchy right now. But he good news is that SOA is going to be at PaleyFest, so we'll definitely have scoop for you soon! We'll also be talking to Parks & Recreation, Bones, The Vampire Diaries and Revenge, so send any Q's you have to @kristindsantos on Twitter!
Daniel in San Clemente, Calif.: I'm excited for season two of American Horror Story but it's so far away! Got anything??
It was just announced that Sarah Paulson is one of the lucky few returnees who has been cast as a season two regular, but she told us she's known for a while! "I was very excited and I felt very honored to be included in the people that [Ryan Murphy] wanted back," Paulson told us at Mariska Hargitay's L.A. benefit for her Joyful Heart Foundation. "He had mentioned something to me last season in passing and I thought, 'Oh, I hope to God that happens!'" Unfortunately she couldn't divulge anything about next year's storyline, "Everything is in the early stages." Paulson continues, "I know some things but no you do not get to know."
Jillian: I send you an email every week and you never answer me. Do have any Bones scoop?
We haven't been answering because we've been waiting for this truly awesome promo  to be released. The Bones baby is on its way!
Reddekker: Anything on Revenge? I am dying for Emily to stay with Daniel!
We know season two will start off with Emily's wedding, and we can only assume it will be to Daniel or Jack, but we'd be remiss if we didn't tell you about this new guy who is coming in who is crazy good-looking and will hit on Emily in a bar. Girlfriend gotta stop hoarding all the Hampton hotties!
Feddin11: Supernatural please! Not liking this drought.
Later this season there will be a multi-episode arc about an Asian teen who discovers he or she is some kind of prophet. He or she (really, they haven't determined gender yet) will appear in the three of the final episodes of the season. Who wants to see Harry Shum Jr. in this role? Flex your abs in solidarity!
—Reporting by Kristin Dos Santos, Jenna Mullins, Tierney Bricker, Marc Malkin and Leanne Aguilera