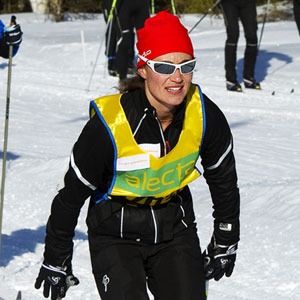 JONATHAN NACKSTRAND/AFP/Getty Images
Pippa Middleton, the Duchess of Cambridge's little sister who is targeted for Usher's lingerie line and tabbed to write a book on partying, is also quite the athletic lady.
Pippa left her London home last Thursday to fly off to Sweden for a charity ski competition, and something amazing came out of it—aside from the humanitarian aspect.
She gave her first on-camera interview...
And it seems like our little Middleton might be camera shy.
After completing dominating the slopes and finishing the 56-mile cross-country ski marathon in a little over seven hours (and also getting a quick smooch from a fan), a local news station interviewed an out-of-breath Middleton about her race for charity.
Despite the one-word answers, it's quite endearing to see Pippa so bashful. Kate Middleton's younger sis let us know that it was very "tiring" but she did prepare for the race over a couple weekends and thinks of herself as an average skier.
Oh those royals, always so modest.