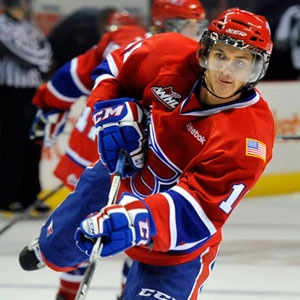 DAN PELLE/AP Photo
Some guys have all the luck.
This kid is not only the offspring of two very sexy celebs, but he finds himself doing what he loves best: playing hockey.
So just whose young turk son aspires to join the NHL one day?
Rod Stewart's!
Seventeen-year-old Liam Stewart (seen below at age 10 with his pop star pop and family)—from Stewart's marriage to supermodel Rachel Hunter—currently hits the ice for the Western Hockey League team the Spokane Chiefs.
But don't let his famous lineage fool you into thinking he's got it easy.
According to a recent profile piece in the Los Angeles Times, Liam and the other rookies earn less than $300 a month for lacing up...and to clean the Chiefs' team bus.