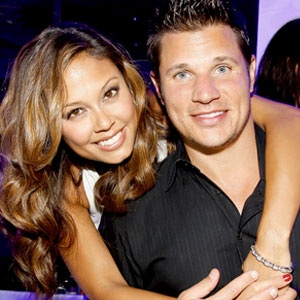 Christopher Polk/Getty Images
Make way for Baby Lachey!
Nick Lachey and his wife, Vanessa Lachey (née Minnillo), will soon be welcoming a bundle of joy. The proud daddy-to-be announced that the couple are pregnant and that she's due in late summer or early fall.
But wait'll you hear how and where he made the announcement...
Nick, 38, spilled the beans live on, well, Live With Kelly this morning while cohosting the show.
And he couldn't have chosen a more fitting place: According to the former boy-bander, Vanessa, 31, found out she was preggers in January after she appeared on the very same show. Poetic!
The night following her guest stint "she started to feel a little different, not quite herself, so she went to the store, got a pregnancy test, and it came back positive," Nick revealed. "So we're having a baby!"
He even joked, "I'm here to tell you the stage here is a very fertile place."
The couple don't know the sex of the baby yet, but the expectant pop is eager to find out.
"I can't take the knowledge that someone out there knows, but I don't know," he said. "It's like watching a sports game on TiVo."
Vanessa—who recently took on her hubby's last name—was spotted in Mexico last month wearing baggy clothing, which further fueled reports that she was preggers.
The couple got hitched last July, and Nick told E! News in November: "I think I'm probably a three-[kid] guy—three to four."
Get ready, Vanessa: Baby No. 1 may still be on the way, but your pregnancy calendar is already fully booked!