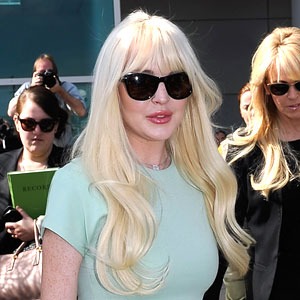 Kevork Djansezian/Getty Images
It wasn't exactly the lead in The Help, but Lindsay Lohan got a nice perk out of her return to Saturday Night Live: For one night, she got to be bigger again than Melissa McCarthy, Katy Perry and, yes, Emma Stone. 
Just take a look at where Lohan ranked, TV ratings-wise, among this season's SNL hosts:
At the top.
Per NBC, last night's episode scored the highest overnight numbers of the season outside of the NFL-playoff-boosted Charles Barkley stint from January.
Additionally, the late-night sketch show outrated every prime-time program that aired on the Big Four networks, the network reported.
McCarthy, Perry and Stone are among the stars who've hosted during SNL's 37th edition. 
Of all the season's shows to date, Stone's Nov. 12 episode currently ranks at the bottom.
That's something of a twist considering one of the sharper (and sadder) jokes of the Lohan show was the jibe where Jimmy Fallon, in an opening-monologue cameo, praised Lohan her performance in The Help.
"That wasn't you?" Fallon stammered when corrected. "It should've been you."
Here's the complete rundown of where this season's SNL episodes (and this season's SNL hosts) have ranked, per the overnight ratings:
1. Charles Barkley, 7.4 rating
2. Lindsay Lohan, 5.5 rating
3. Jimmy Fallon, 5.3 rating
4. Melissa McCarthy, 5.2 rating (tie)
4. Daniel Radcliffe, 5.2 rating (tie)
6. Alec Baldwin, 5.0 rating (tie)
6. Zooey Deschanel, 5.0 rating (tie)
8. Charlie Day, 4.9 rating (tie)
8. Maya Rudolph, 4.9 rating (tie)
10. Ben Stiller, 4.8 rating (tie)
10. Anna Faris, 4.8 rating (tie)
10. Steve Buscemi, 4.8 rating (tie)
10. Katy Pery, 4.8 rating (tie)
14. Channing Tatum, 4.7 rating
15. Jason Segel, 4.6 rating
16. Emma Stone, 4.5 rating