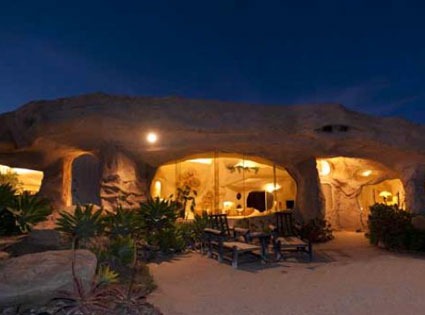 Yabba dabba doo!
Which celeb, who knows a thing or two about rock stars, is unloading this quirky home at anything but a Bedrock price?
Read on to find out which American music icon is moving on from this quarry-cool charmer...
It's Dick Clark! The American Bandstand legend is selling his Flintstone-esque pad in Malibu for $3.5 million.
The custom-built caveman-styled house, which resembles a rock both on the exterior and interior, sits up high on a Malibu mountaintop within a 23-acre site and boasts 360-degree views, including a picturesque vista of the Pacific.
The one-bedroom, two-bathroom retreat owned by Clark and his wife, Kari, has vaulted ceilings in the living and dining rooms, complete with a fireplace and even a wine cellar.
The TV personality, who marked his 40th anniversary hosting Dick Clark's New Year's Rockin' Eve this year, gives rockin' a whole new meaning with this pad!