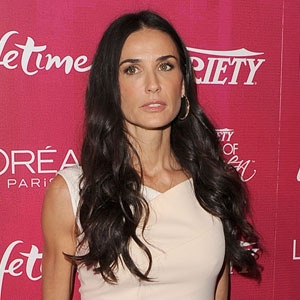 Jason Merritt/Getty Images
Demi Moore could be vacationing in worse places.
The Ghost star, no longer in rehab at Utah's Cirque Lodge, remains far away from Los Angeles as she continues to rest up following a health scare and ensuing treatment.
And E! News has exclusively learned that Moore is hiding out in the Caribbean at one of her favorite spots.
Moore was spotted earlier this week on the beach of a private villa near Parrot Cay in the Turks and Caicos Islands, about 550 miles southeast of Miami.
"She's just been chilling out," a source tells us.
The retreat is accessible only by boat and sources say that private security has been working round the clock to keep Moore's sojourn as private as possible.
Bruce Willis owns a home in Parrot Cay—the very spot where he and Emma Hemming tied the knot in 2009, with his ex and Ashton Kutcher in attendance.
It's unclear who accompanied Moore—she reportedly jetted to Turks and Caicos in the days following her split from Kutcher last year, as well—but E! News can confirm that none of her daughters made the trip with her.
Moore isn't the only one who's a fan, either. Ben Affleck and Jennifer Garner swapped vows in Parrot Cay back in 2005, Eva Longoria and Tony Parker honeymooned there back in the day, and designer Donna Karan keeps a home there, as well.
Moore's rep had no comment.
—Additional reporting by Claudia Rosenbaum