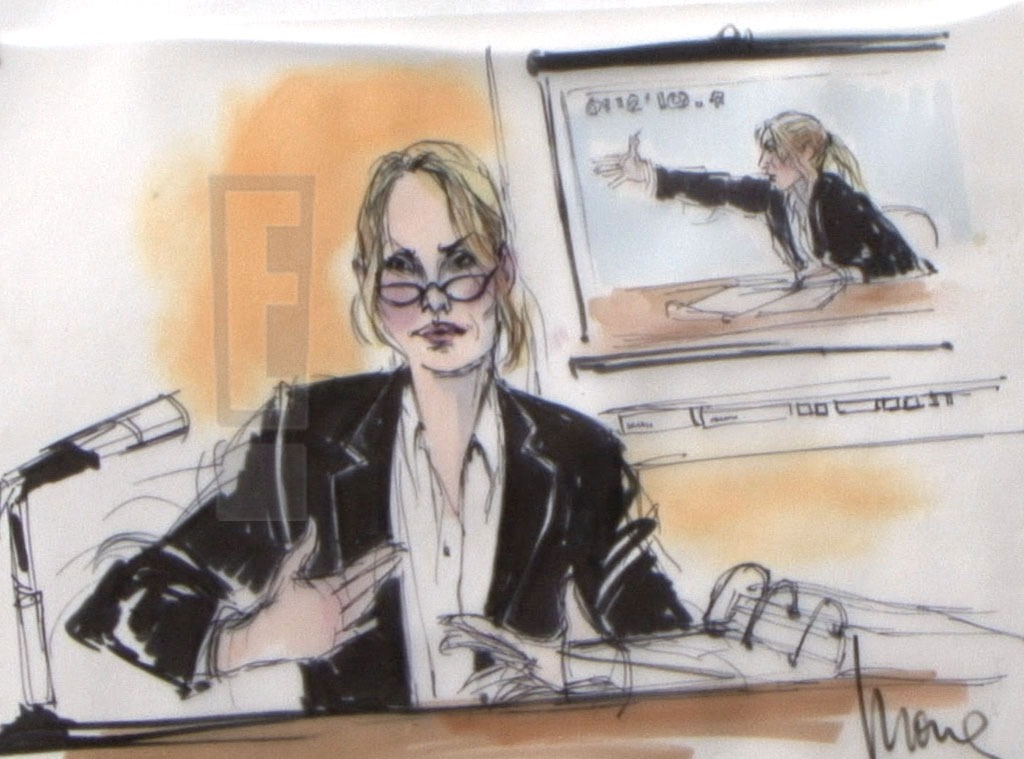 Call it Hit-vs.-Slapgate.
Nicollette Sheridan was unable to maintain her composure on the witness stand today when Marc Cherry's attorney, Adam Levin, pressed her on why some documents filed in her wrongful-termination case claimed that she was "slapped" by her former boss while others claimed she was "violently hit."
"I don't know why they're different!" the former Desperate Housewives star, who claims Cherry and ABC unceremoniously dumped her after she accused Cherry of getting violent, fired back. "You are such a stickler for details!"
Enter the judge.
"Calm down, Ms. Sheridan," interjected L.A. Superior Court Judge Elizabeth Allen White.
During cross-examination today, Levin inquired as to why one complaint filed with the California Fair Employment and Housing Department stated that "Cherry, a gay man, slapped [her], a heterosexual woman," and in a supplementary document she said she was hit.
Sheridan testified yesterday that she was "hit upside the head"—a change in testimony that could qualify as perjury, Levin warned her.
"Sorry, this is ridiculous to me," Sheridan barked back, accusing him of "misconstruing" her deposition.
"I said from the beginning that Cherry hit me," she continued. "I am not sure why the word slapped is in there."
The erstwhile Edie Britt testified that approaching Cherry with opinions on the set was often a "touchy subject" and that she returned immediately to work after their allegedly violent, albeit 30-second, fight on Sept. 28, 2008, because she "wanted to make sure we got a funny line back in that scene."
"Were you so intent on getting a funny line that you never considered that Marc's dismissiveness meant that Edie did not need a funny line?" Levin wondered. "[Cherry] did not yell or shout."
He noted that Sheridan never reported Cherry's alleged actions to the police or human resources at ABC, but only talked to Desperate Housewives line producer George Perkins about it.
Then, just as Sheridan's attorney played a five-minute montage of Edie's seductive scenes over five seasons, Levin played a seven-minute montage including every one of the series' 47 character deaths over seven seasons.
Levin has argued that his client "tapped" Sheridan on the head, but did not strike her hard—and that, contrary to what Sheridan thinks, Cherry had been considering killing off Edie since season three, long before he supposedly killed her off in retribution for Sheridan complaining about him.
Today's session ended at noon, after which Sheridan's attorney, Mark Baute, addressed the media outside the courthouse.
He accused Cherry's camp of purposely riling the actress up on the stand. Yesterday during a similarly staged press conference, Baute expressed confidence that none of Sheridan's former Desperate Housewives costars who are on Levin's witness list would actually end up testifying against Sheridan.
"I think it is total poppycock," Baute said. Sheridan will return to the stand at 9:30 a.m. on Monday.