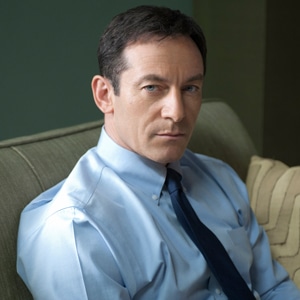 Lewis Jacobs/NBCJason Isaacs
Confession: We're losing sleep over how much we love Awake. (Too obvious? Oh well!)
We've been dying to know how viewers would respond to NBC's ambitious, high-concept new drama since we first watched the pilot last summer and instantly fell in love with the storyline of one man living in two realities in order to stay with the people he loves. 
Awake finally premiered tonight and now we want to hear from you: Are you digging Awake as much as we are?
Police detective Michael Britten (Harry Potter's Jason Isaacs) has been living a double life following a car accident involving his wife, Hannah (Laura Allen) and his son, Rex (Dylan Minnette). And by double life, we mean moving back and forth between two realities. In one, his wife survived the accident and in the other, his son survived. In each reality, Michael has different conflicts, police partners and therapists and he starts noticing links between the two realities. 
While the series may seem a bit confusing, says show creator Kyle Killen, "It's a serialized crime procedural—it's not a Fringe that asks you to delve into sci-fi. It's a human story, and the crimes of the week are told on that level." Isaacs echoes Killen's sentiment, telling us the show's mystery is "incredibly simple: Which of my worlds is real? And what would you do if you didn't know which world is real?"
As the series moves forward, viewers can expect Britten to solve mysteries using his unique situation: he finds clues in one world that will help him solve cases in the other. And to answer your big question: No, we won't learn which reality is Britten's true reality in the first season, though you can expect to learn why Britten was involved in that life-altering car crash by season one's end. For more scoop on Awake, check out our interview with Isaac from the set. 
(NBC and E! are both part of the NBCUniversal family)

Save It or Sink It, March 1
It's your turn: Vote in our latest Save It or Sink It poll above and tell us if you'll be sticking with Awake past the series premiere. Then head on over to the comments to discuss NBC's latest drama with your fellow TV lovers. You know you want to!