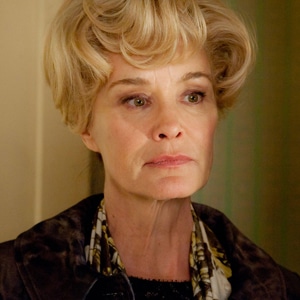 Prashant Gupta / FX
American Horror Story fans, we have answers to your biggest season two questions: Who's in the new cast? Where is it taking place? And who from season one is returning besides Zachary Quinto and Jessica Lange?
At PaleyFest tonight, Ryan Murphy, Brad Falchuck and the rest gave us the scoop we've been waiting for. Plus, the likes of Connie Britton and Dylan McDermott gave us new insight on season one.
Sarah Paulson, Evan Peters, Lily Rabe are all coming back, y'all!
"Everyone will be playing the opposite of what they played," is the only thing Murphy would tease of the returning actors' roles in season two. "We're writing it and we don't want to talk about it too much," he adds.
Though Britton. McDermott and Taissa Farmiga will not be returning, Murphy teases, "Anyone can pop up at anytime...the Harmons were exhausted, let's give them at least one season off." 
Season two of American Horror Story will begin shooting in July and the writers came together in February to begin breaking story. While not much about season two was revealed, Murphy did say one thing viewers will never see on the show: "Our only rule on this show was no werewolves and no vampires. I think a supernatural element will always be a part of the show. We're going to do something much more historically accurate."
Want some season one inside scoop? Here are a few goodies that were revealed during the panel by the cast and producers:
No, they did not forget about Constance's fourth child and they do plan on answering that mystery...eventually. ""We have not lost sight of the fourth child. And with a show like this it could be season four, I don't know," Murhpy says. "We will eventually deal with that, even though Jessica's not playing Constance."
"Yeah," Britton says of knowing that her character would die, along with her family, when she signed on for the show. Murphy adds, "I thought it was a happy ending." 
Infantata was actually played by a schoolteacher named Ben. So yes, basically Infantata could be teaching your child science and you don't even know it!
Telling some of the stories out of order helped make some of the characters, namely fan favorite Tate, more likable. "It allows you to fall in love with him first and then find out how horrible he was," Falchuk explains. When asked if they are surprised by the fan reaction to Tate, Falchuk says, "Evan made a huge difference because he's such a charismatic actor," Falchuk says, adding that it was an extremely difficult role to cast before Peters came in. 
Murphy says a lot of the Glee actors were obsessed with American Horror Story and reveals Lea Michele and Cory Monteith once snuck over to the FX show's set to sneak a peek at Lange at work! "The Glee kids were obsessed with the American Horror Story actors...they were much more interested in the next American Horror Story script than the next [Glee] script." 
What do you make of all the new season-two info? Happy to hear Quinto, Lange and Peters are returning? Scroll on down and let's scare up a lively discussion!