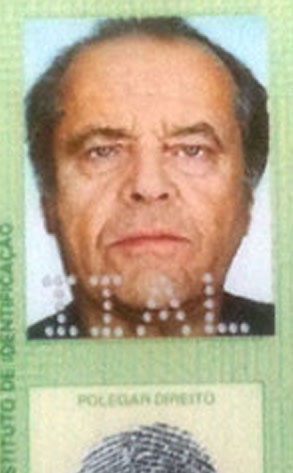 Brazilian Police
Is Jack Nicholson really as good as it gets? One inventive perpetrator seems to think so!
A Brazilian man was busted after he presented a fake ID bearing a photo of the Oscar-winning actor while trying to open a bank account.
We've heard of obsessive fan tributes before, but this one is positively criminal, yes?
Per CNN, Ricardo Sergio Freire de Barros, 41, was arrested yesterday in the Brazilian city of Recife and charged with use of false documents and falsification of a public document.
Apparently, cops had been monitoring him for several months after receiving reports that Barros was skipping around town fraudulently opening bank accounts and credit cards, and then racking up huge, unpaid debts.
Indeed, police found a several fake IDs and checkbooks on him when he was arrested.
The Nicholson photo that Barros used couldn't have been more obvious. It's a famous portrait taken by renowned celeb photographer Martin Schoeller that was first published in Entertainment Weekly in 2003 and has since been exhibited in museums worldwide.
Nicholson remains the most lauded male actor in Oscar history, racking up 12 nominations and three wins. He also scored one of the most lucrative paydays in Hollywood when he bagged a reported $50 million from his back-end earnings on 1989's Batman.
Maybe Barros thought some of Nicholson's good fortune would rub off on him? Now that's a joker!