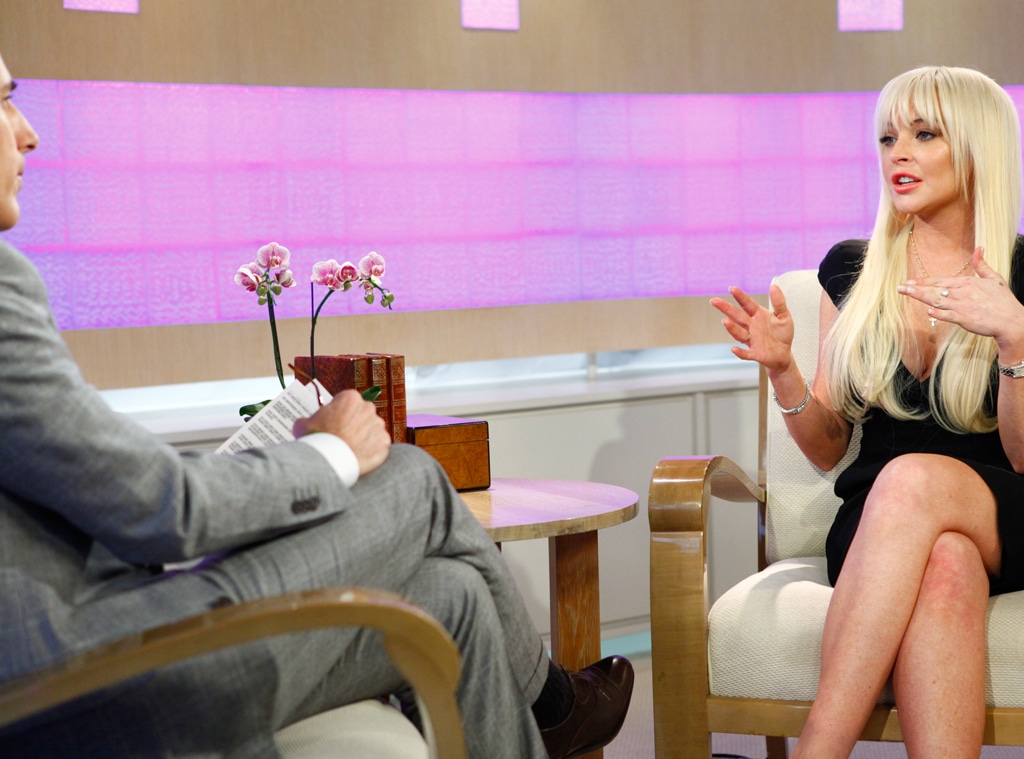 Peter Kramer/NBC
Lindsay Lohan's got a new 'do and a fresh outlook on life.
The 25-year-old is hosting Saturday Night Live this weekend, she's researching Elizabeth Taylor for an upcoming film role and she's finally nearing the end of her probation term.
"I don't want people to have that reason to be scared anymore," Lohan, who's finally figured out what to do with her bangs, told Today's Matt Lauer in an interview airing Thursday. "So being able to have this opportunity with SNL and the film, I'm gonna do what I'm supposed to do, and enjoy doing it, and do it as best as I can."
Well, back in the day, her best was pretty darn good. But how does she plan to prove that she deserves people's trust?
"I still need to go through the process of proving myself," she admitted, noting that she's "clean and sober" and ready to move forward "in the right direction."
"It's a scary thing to have to kind of express to people...I wasn't as comfortable with myself then," Lohan agreed when Lauer asked if perhaps she was in denial the last time they spoke. "I think it was a fear factor that I had about what was really going on. And, you know, I had to get that wakeup call."
That wakeup call could have been any variety of court dates, not to mention thousands of dollars in bail and attorney fees, failed drug tests, rehab at Betty Ford, community service at the L.A. County morgue, etc.
"That's not my thing anymore," Lohan said of the hard-partying scene she was associated with for so long.
"I went out, actually, a few months ago with a friend. And I was so uncomfortable," she recalled. "Not because I felt tempted, just because it was just the same thing that it always was before. And it just wasn't fun for me. I've become more of a homebody. And I like that."
She acknowledged that it's going to take time to rebuild her reputation. (The good reputation, that is.)
"I think that that's gonna take—I think that takes time," Lohan noted. "And I think that it's actions. Because people can say things all they want, but I think I still need to go through the process of proving myself, you know, with SNL, being on time, being, you know, keeping my—can't say the word—but stuff together."
The same goes for playing Elizabeth Taylor. Lohan described the project as being "in the middle of casting."
"I've been doing tons of research," she said. "But I've always kind of researched her. She's always been a fascinating woman to me. So I'm really honored. And I will not let anyone down, especially myself."