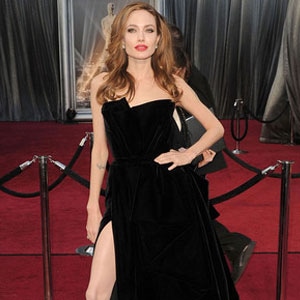 Jason Merritt/Getty Images
1. Today Show: Angie's gam didn't exactly put her best foot forward Tuesday morning. According to her Twitter feed, the leg dropped by the fourth hour of the Today Show with Kathie Lee Gifford and Hoda Kotb for some vino. "Did you catch me on the Today Show?" the leg tweeted, thankfully still wearing her shoe. "I was ALMOST as drunk as KLG!"
2. Interview with a Vampire: Or is that a gam-pire? See that look of surprise on Tom Cruise's face? He can't get over costar Brad Pitt's surprisingly sexy stem. Thanks to Photoshop, Angie's right leg went back to 1994 and gave a helping—leg—to her partner.
3. With Peppy Miller: The Artist won an Academy Award for Best Picture, and Angie's leg wanted in on the glory. She snuck her way into the film and wrapped Bérénice Bejo in a loving embrace See, Uggie? You're not the only one who can steal the show.
4. Dark Side: Darth Maul sexed up his evil Star Wars look with the help of Angie's leg. That sexy pump goes well with his other combat boot, don't you think? No wonder the Dark Side is so hard to resist.
5. Linning, duh. The rest of the world has come down with a case of Linsanity, and Angie's leg wanted in with NBA fans, too. She stepped onto the court as Jeremy Lin's leg—but come on now, do we really think she'll ever wear a sneaker?