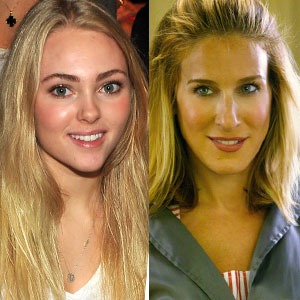 Stephen Lovekin/Getty Images, HBO
"It's a tall order but we are excited. There are so many talented young actresses out there."
That's what Josh Schwartz (Gossip Girl, Chuck, The O.C.) told us about trying to find the right girl to channel Sarah Jessica Parker and play a young Carrie Bradshaw in his new Sex and the City prequel pilot, The Carrie Diaries.
And now it seems one girl was more talented than the rest, 'cause young Carrie has been named:
AnnaSophia Robb.
A studio rep confirms the movie actress (who has starred in films such as Race to Witch Mountain and Charlie and the Chocolate Factory) will play Carrie B. in the CW pilot, based on the book written by Candace Bushnell. In the new hourlong dramedy, we will see Carrie in the '80s, asking her "first questions" about love, sex and friendship. (So you know, a bit more network-appropriate given that she has yet to meet Samantha.)
The casting call described the role of Carrie as a "quirky, charming, witty 16 year old," who unfortunately has "a complete lack of knowledge about love, sex and relationships." Carrie will also have a growing sense of fashion, and she's dealing with the recent loss of her mother. The Carrie Diaries will take place in Manhattan. Where else?
We know what you're thinking: Wow! They actually found a girl who (just like SJP) has two first female names followed by a male name? What are the chances?
OK, probably pretty high. And we still think Dianna Agron or Blake Lively would have rocked this role too, had the timing worked out better. (They are both still otherwise committed.)
We'll find out just how on-point AnnaSophia's casting is in May, when the CW decides whether to pick up The Carrie Diaries to a full series.