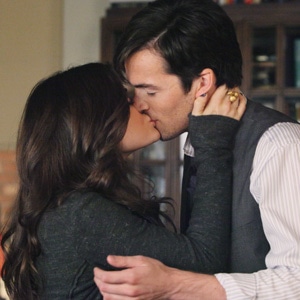 ABC Family
Tick-tock! Tick-tock!
Yes, that's the sound of our clock counting down the seconds until the Pretty Little Liars season finale on March 19, which serves as A's coming-out party. Yes, viewers will finally learn the identity of Rosewood's craziest glove-wearin' psycho, and we can't wait. In order to fully prepare ourselves and you, our gentle readers, for this momentous TV occasion, we sat down with Ian Harding in the E! News studio to talk about the finale, Ezra's future in Rosewood and a couple we hear is kind of popular: Ezria. Maybe you've heard of them?
So what was Harding's immediate reaction when he finally found out who A is? And why should Ezra and Aria (Lucy Hale) fans be worried?!
While Harding admits his first reaction to learning the identity of A was along the lines of "'Oh no, is the show ending? Am I unemployed again?! What is this?!'" he teases that there's more to the revelation than meets the eye. "Once I discovered who they were, I went, 'Oh! It makes sense!' Then towards the end of the finale, things move around a little bit, so it's not neat. There's no closure. Like everything in Rosewood, you find out this secret and all the girls kind of go, 'Phew! Yay!' And then something happens and they're thrown for a loop."
Of the highly anticipated finale, Harding would only say, "It's so juicy and smack-you-in-the-face with surprise." As for the status of Ezra and Aria's relationship in the finale, Harding says, "A big decision is made and a big step is kind of decided upon. It's very all-or-nothing after this."
Leading up to the finale, fans of the couple should prepare for their favorite 'ship to get a little rocky. "Aria and Ezra's relationship is going to see a lot of tests. They're going to see reality clicking in," Harding says. "They've already made so many leaps of faith in the fact that they more or less have held strong together through telling Byron (Chad Lowe) and Ella (Holly Marie Combs). They've already done that together that I don't think that they've realized yet that they have to do more, that there's more if they really want this thing to be real."
One of those tests will continue to be Aria's father Byron, who is dead set on severing the relationship, going as far as recommending Ezra for a job in another state. Unfortunately for Ezria fans, the hot teacher is seriously considering taking the job. "Even though it was formulated by Byron to get him out, why wouldn't he take this job? He would leap ahead in his career path by seven steps," Harding reasons.
Also not a good sign? This little tease from Harding: "There will be a few episodes that maybe I'm not in. Ezra's going to need to do some soul-searching. I've seen a lot of Chad Lowe on the set. I'll leave you with that."
So is there any chance that Byron will follow in Ella's footsteps and at least give his daughter's relationship with Ezra a chance? While Harding says it's not likely, he does offer up a sliver of hope...before throwing down the gauntlet! "We could bond over something else, I don't know," he says. "I do think it's slightly hypocritical regarding his past dalliances. There's going to be some butting of heads coming up." If we were the betting kind, we'd put our money on Ezra winning this battle. Just sayin'!
Pretty Little Liars airs tonight at 8 p.m. on ABC Family.
To hear more from Harding, including why he would like to see another woman in Ezra's life other than Aria and his idea for a PLL spinoff featuring the boys of Rosewood, watch our interview with him above!