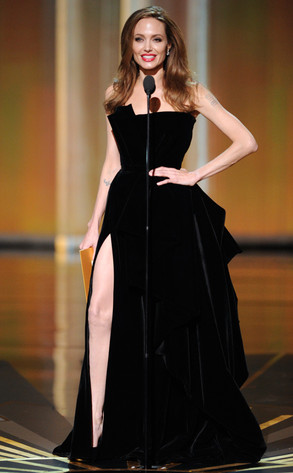 A.M.P.A.S.
Leave it to Angelina Jolie to go out on a limb. And a rather shapely one at that.
The actress has never been one to lack attention, and that was never more apparent than during last night's Oscars, when the distracting and ostentatiously bared gams of Brad Pitt's better half threatened to overshadow the entire telecast.
And when you take into account that the night included a maybe wardrobe malfunction from Jennifer Lopez, blackface from Billy Crystal and an "ash"-dumping on our own Ryan Seacrest, that's some feet feat.
Of course, it wasn't long before Jolie's leg branched out into other mediums, resulting in the launch of an inevitable Twitter feed, the rather aptly named Angelina Jolie's Leg.