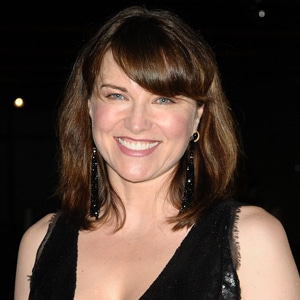 Jason LaVeris/FilmMagic
Former Xena: Warrior Princess star Lucy Lawless is taking the "warrior" part of her persona very seriously.
The actress and environmental activist was arrested today in New Zealand after hunkering down for four days aboard a docked oil-drilling ship in a fight against global warming.
According to reports, the 43-year-old New Zealander, who protested with six other Greenpeace activists, was charged with burglary.
On Friday, Lawless climbed atop a tower on the ship Noble Discoverer, which was originally set to sail for the Arctic over the weekend. The group sought to draw attention to how Arctic oil drilling could accelerate global warming.
The actress, who currently stars in the battle-heavy cable series Spartacus: Vengeance, was photographed brandishing a sign that read, "STOP SHELL," the energy company behind the operation.
Lawless reportedly cited her three kids as the reason for taking an aggressive environmental stand, saying, "My sole biological reason for being on this planet is to ensure that they can flourish, and they can't do that in a filthy, degraded environment."
Lawless has been released from custody and is scheduled to appear in court on Thursday.