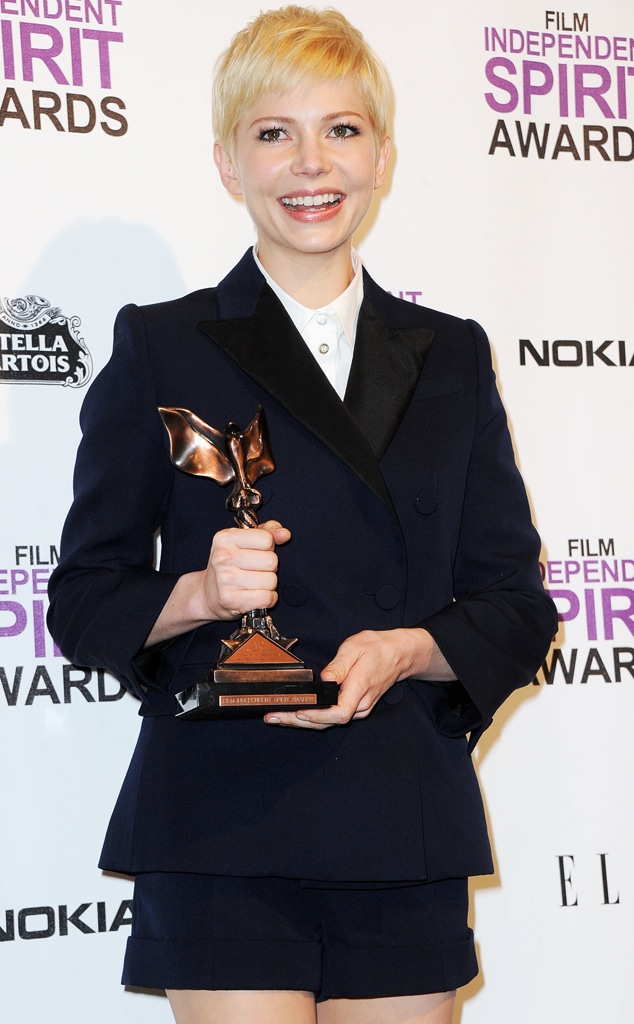 Frazer Harrison/Getty Images
Michelle Williams might be the underdog in a battle between Oscar powerhouses Viola Davis and Meryl Streep tomorrow, but tonight she is a winner.
"My friend said, 'You're like the Susan Lucci of the Independent Spirit Awards," Michelle—who had been nominated four times prior—giggled when she came backstage after accepting her award for Best Female Lead.
And from what she's got to say about taking on Marilyn Monroe, the award is well earned:
"I feel like whatever you're working on in the moment feels like the hardest thing that you've worked on," Michelle said when we asked whether it was more daunting creating a character or adapting one that already exists.
For the record, all her previous Oscar noms (two of 'em) and Spirit Award noms have been for fictional characters.
Michelle continues, "Because it's what's confronting you on a daily basis with your shortcomings and what you're trying to get better at."
Though, that doesn't mean playing a legend was anything easy.
"Gosh, sometimes I can't even believe I did it because the challenges were just…" Michelle began before trailing off. "In a way, you had to remove the fact that she was an icon and put that out of your mind. Because it would be too daunting. And instead try to think of her as an ordinary girl, which is what she wanted to be thought of as."
So how did she get in full-on Marilyn persona (which, you'll remember, her costars said was a full-time gig as Michelle stayed in character between takes)?
"You watch all the movies. You read all the books. You go on YouTube. You become a really good student," Michelle happily explained while clutching her new trophy. "And you take time and you let yourself be really bad for a while and you push through that period."
But if you think becoming a big-screen bombshell has made the mama feel sexier in her day-to-day life, think again:
"Umm, no, not really," she chuckled good-naturedly (if not a bit sheepishly).
Well with those killer legs (shown off at the event in a pair of black mini-shorts) and chic blonde 'do, we don't know how you could get sexier. In fact, we cannot wait to see what Michelle wears tomorrow.