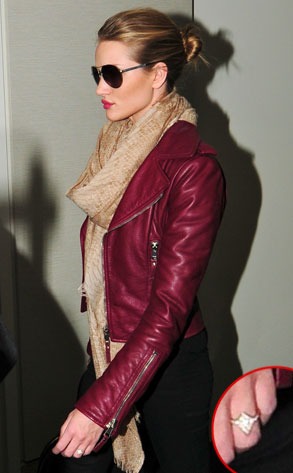 NATIONAL PHOTO GROUP
Well, well, well, what have we here?
While some stars seem to go to great pains to hide away their engagement bling from the camera's gaze, actress and supermodel extraordinaire Rosie Huntington-Whiteley made no such attempts to hide the rock on her ring finger when she and (fiancé?) Jason Statham touched down in Los Angeles this week. Speculation of an engagement has inevitably ensued.
So, are congratulations in order for these two longtime lovelies? This rumor is...
So false! At least, for now.
A rep for Rosie tells E! News that the Transformers star is not engaged and that she has both had and worn that particular ring "for years."
Still, while the 24-year-old and her 44-year-old action star beau may not be altar-bound, but that doesn't mean he won't be carrying her over the threshold anytime soon. Just yesterday, the duo was spotted apartment hunting together in New York's SoHo.
Baby steps.