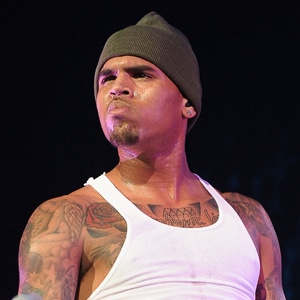 Gustavo Caballero/WireImage
Chris Brown can't have his "Birthday Cake" and a free pass, too.
A woman has accused the controversial Grammy winner, who's on probation until 2014 for hitting Rihanna, of grabbing her iPhone out of her hand outside a Miami nightclub last Sunday—and taking off with it!
Miami Beach Police confirm to E! News that an incident report was filed and the Florida State Attorney's Office is preparing a warrant for Brown's arrest on suspicion of "robbery by sudden snatching."
Yikes! Why in the world would he supposedly swipe another person's phone?
Per the police report, Christal Spann saw Brown leaving Cameo in Miami Beach from a side exit, then approached Brown's Bentley and took a photo of him inside the car.
Afterward, Spann claims, Brown reached out the window and grabbed the phone from her hand, saying, "Bitch, you ain't going to put that on no website." Then, the report states, he rolled up the window and took off.
Brown's latest snafu comes on the tail end of a random feud with WWE star CM Punk, who first got into it with Brown over Twitter and then posted a video clarifying that he didn't mean to kick up controversy—because Brown already did that himself.
"I have no need for a PR team to tell me what to tweet or when to delete tweets," the wrestler said. "And I don't hit women...In my world, women are to be revered and respected, and I firmly believe that in this life there are consequences and repercussions for people's actions. I don't think Chris has paid for what he's done."
Brown's been getting glowing probation reports since pleading guilty to felony assault and accepting his sentence, so it would behoove him to explain this situation before the police's investigation into what happened turns into anything more.
"My prosecutors are currently speaking with witnesses and reviewing all of the materials supplied by Miami Beach Police," Miami-Dade State Attorney Katherine Fernandez Rundle said. "Only after these reviews have been completed would any type of action be considered or taken.
"This is the basic process that every criminal case in Miami-Dade County undergoes."
—Reporting by Sharareh Drury