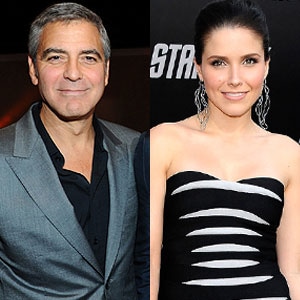 Albert E. Rodriguez/Getty Images; Frazer Harrison/Getty Images
Want to get Sophia Bush all fired up?
Then simply ask the stunning One Tree Hill actress how she feels about today's divisive political climate and you're sure to get an earful—gal is not afraid to speak her mind! Love!
So when Sophia started talking passionately as a gay rights advocate, we had to ask the newly single star whether she agreed with George Clooney, who told us gay rights are the "last leg of the Civil Rights movement" at the 2012 Golden Globe Awards:
"Absolutely, I agree with that. 100 percent," Sophia emphatically stated at the Global Green USA's 9th Annual Pre-Oscar Party in Hollywood.
Bush continued, with more passion than Emma Stone herself in The Help:
"When we're talking about the '60s, when my best friend couldn't drink out of the same water fountain as I can because his skin is a different color than me…Now, you're talking about a different best friend of mine who can't get married even though I could get married seven times in my life and he can't do that because he is a different sexual orientation than me?! That's absolutely a civil rights issue."
To which we say: Thank gawd for gals like Sophia.
Why the hell did Chad Michael Murray and Austin Nichols ever let this super-smart babe (who was so rocking in stilettos and beaded, full-length gown) get away? Hmmm.
And not only is Sophia incredibly passionate about gay rights, she also went on to explain why it shouldn't even be an issue in our society today:  
"In a world that's filled with famine and rape and murder, we're going focus on a problem, so people want to say, with two people loving one another, with two people wanting to potentially adopt children who are otherwise homeless, really?!
Indeed, Bush didn't stop there:  "It is absolutely a civil rights issue. And anyone who says that it isn't is misinformed."
Well, we guess that sums up how Sophia feels about the presidential race at this point (Mitt Romney, we're talking to you), but in case there's any confusion, we'll let Ms. Bush have the last word:
"Shut your trap and talk about something that matters, please."
Sophia, we couldn't have said it better ourselves.