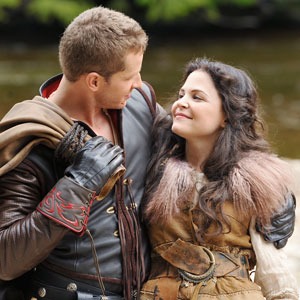 ABC/CHRIS HELCERMANAS-BENGE
It's a mad, mad world!
Well, it's about to be one on Once Upon a Time, at least! ABC's hit series will take on Alice in Wonderland in an upcoming episode and have recruited a Captain America star to don a very special hat. Creators Edward Kitsis and Adam Horowitz sat down with reporters this morning (and supplied bagels! 10 seasons and a movie!) to discuss the show's upcoming (epic) roster of guest stars.
Plus, what's ahead for David (Josh Dallas) and Mary Margaret (Ginnifer Goodwin)? Here's what we can tell you...
Guest Stars Galore! Gossip Girl bad boy Sebastian Stan is set to guest star in the show's 17th episode, which takes place in Wonderland. Yeah, that Wonderland. Stan's role? Why, the Mad Hatter of course! "We find out how the Mad Hatter became mad," Kitsis teases. "Sebastian is so good in this role," he adds. "He's brilliant." So how will this Wonderland be different from what we already know? "The first [difference] you'll notice is in who the Mad Hatter was and his backstory. Then what Wonderland is and [its] changes is something we hope to explore also," Kitsis says. "We're hoping this tells you the story of the Mad Hatter, but will also leave you questions about Wonderland." 
Vampire Diaries and Alias star David Anders will also return later this season as the nefarious Dr. Whale, but his fairy-tale counterpart will not be revealed this season. His Alias costar (and Dollhouse and Angel actress) Amy Acker makes her OUAT debut in episode 14. "She is going to help tell the story of how Grumpy became Grumpy," Kitsis says of Acker's fairy character, Nova. 
Don't worry, we didn't forget about Belle (Emilie de Ravin), whose Storybrooke self is currently sittin' pretty in a secret padded cell. "She has a nice little scene in 14," Kitsis teases. "She's sitting up there with the person who loves her, not realizing it, and that would be someone I would not want to piss off," Kitsis says. Still, fans will have to wait a little longer for answers regarding Belle. "She's going to be back probably more toward the end of the season," Kitsis says. 
Finally, Barbara Hershey will guest star as Regina/the Evil Queen's (Lana Parrilla) mother. Of her character, Kitsis would only say, "Evil is not born, it's made. Her mother has a specific viewpoint about the world." Horowitz adds, "Hopefully you'll get a great insight into Regina and why she is the way she is."
What are you looking forward to seeing on Once Upon a Time? Do you think Stan will make a good Mad Hatter? Sound off in the comments!