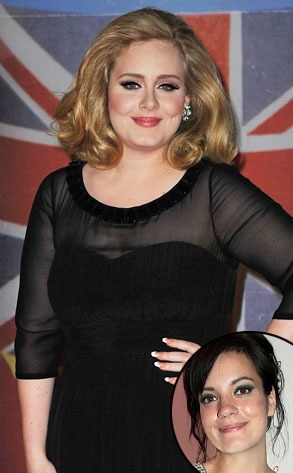 Gareth Cattermole/Getty Images; Dave M. Benett/Getty Images
Don't worry Adele, Lily Allen's got your back!
Tuesday night at the Brit Awards, the 23-year-old singer's acceptance speech was cut short by host James Corden so he could introduce Blur, the act who performed next. (You'll recall, our girl flipped the bird, a gesture she intended toward industry leaders, not her fans.)
But Allen, who is currently focused on raising her 4-month-old daughter Ethel with hubby Sam Cooper, doesn't think Adele's acceptance speech getting cut short was just a scheduling snafu…
She thinks it was sexist!
"I'd rather hear adeles acceptance speech," she tweeted after the incident, adding, "I can't say I'm surprised [it was cut off]. It was like the music industry's attitude to women played out as a metaphor."
Let's learn a lesson from all this: whether Adele is singing, talking or tweeting, we want to hear everything she has to say!