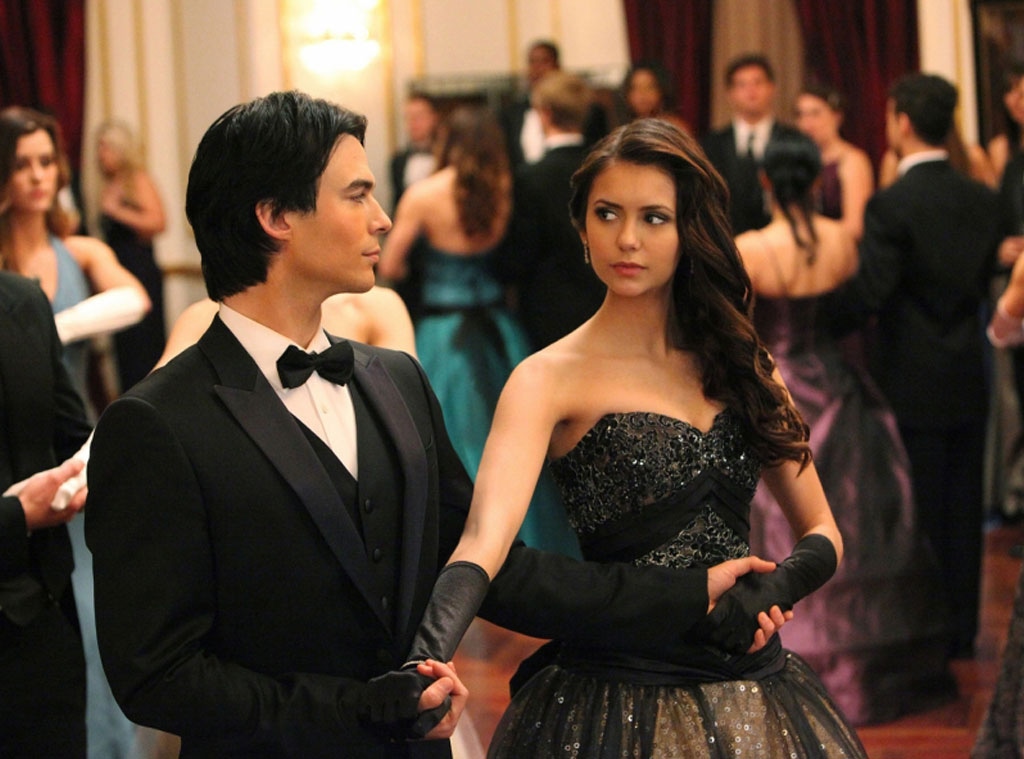 Quantrell D. Colbert/The CW
What's that sound, you say?
Oh, nothing. Just us frying an egg on the hotness we're hearing is in store for Damon and Elena on The Vampire Diaries. No big whoop. Unless you are a Damon and Elena fan and then you are most likely scraping yourself off the ceiling right now. Need help?
We've just scored a glimmer of hope for you Damon and Elena fans, plus who's getting arrested on Once Upon a Time and a...wait for it...baby (say wha??) that just might look a whole lot like the spawn of Kate Walsh and Taye Diggs on Private Practice, which we're so not mad about. Plus, Fringe, Community, In Plain Sight and more, all in our latest roundup of TV scoop...
ABC/CHRIS HELCERMANAS-BENGE
@girlgoneveggie: Any scoop on Once Upon a Time? Not having a new episode to look forward to this Sunday makes me sad. :(
You think you're a little down? Well, prepare for major fallout after Kathryn's (Anastasia Griffith) disappearance, like our dear Mary Margaret (Ginnifer Goodwin) being arrested by her own daughter Emma (Jennifer Morrison) kind of major. And wait, it gets even better! Guess who's going to be representing Mary Margaret in court? Mr. Gold (Robert Carlyle)! This should end well…
BeiNa88: Any scoop about Addison and Jake?
We've learned that the powers that be are on the lookout for some seriously cute new cast members: biracial twins! We know what you Addison (Kate Walsh) and Sam (Taye Diggs) fans are thinking, and we're thinking it too: The fan-favorite couple could have their little bundle sooner than we thought. Could be, could be!
DK in New York: The writers for TVD are so cruel! I'm beginning to feel that the whole Elena and Damon kiss was the start and end of their relationship. Any scoop on most people's favorite couple?
Fear not, Damon (Ian Somerhalder) and Elena (Nina Dobrev) fans! Though Damon and Elena may seem further apart than ever, sources tell us their estrangement is not permanent and that their complicated dynamic "will be heating up again" this season. We'll pause while you "Delena" fans rejoice and "Stelena" (Stefan and Elena) fans go through the five stages. It gets better, guys.
GregLJ: So happy Community is coming back finally! Any scoop on what's ahead?
Yep, March 15! We hit the set and Joel McHale gave this tease: "All I can say is that there will be a death, there will be a death of some sort." Human beings, ruuuunnnnn! Run for your liiiiiives! He's got to be kidding, right? Oh and for the record, Joel & Co. are beyond grateful to you fans (naturally!). "It's been amazing," Joel said of the crusade to save the show. "The fact that our fans have kept us in the conversation is priceless. Our fans are like the army in 300, where they all are in unison! So without them I think our show would have had a harder time getting on the air, so thank God for rabid fans."
AndrwsRod: Please we're dying without Fringe news. Give me something, anything will do.
We've seen Friday's show and all we can say is OMFG (Oh. My. Fringe. Goodness.)! We don't want to totally spoil the surprises in this electrifying episode, but prepare for a shocking visitor to Walter's (John Noble) lab, the reappearance of Peter's (Joshua Jackson) baby Henry and a very naughty Nina (Blair Brown). It's a pivotal episode in the series' mythology, and the ending will break your heart.
DegrassiDaily: What's happening with the kids of Degrassi this season?
Slow your roll, Clare (Aislinn Paul) and Eli (Munro Chambers) fans! While the promo for the rest of the season suggests that the fan favorite couple will find their way back together, Chambers tells us the reunion might not be a romantic one. "It's Claire and Eli. They're always going to be in each other's lives in some way," he teases. "They're trying to rekindle a relationship in some sort of way. I don't know if it's going to be in a romantic way or just as friends, but I think they do miss each other and they belong together in some way."
Judie in Albuquerque: Do you have the low-down on In Plain Sight? Although I've seen them filming all over town I can't tell whether Mary's baby is OK/adopted/or…?
Get ready to meet an adorable new castmember when In Plain Sight returns to USA March 16, picking up six months after last season's finale shootout. And after Mary's health scare, she is definitely in the pink now.
SecretAgentNerd: #Psych scoop! I'm begging you! 
C'mon son, no need to beg—we're always happy to reward you with delicious Psych scoop. Juliet (Maggie Lawson, who played a scandalously saucy vixen last week on Justified) will face some competition for Shawn's heart in "Shawn and the Real Girl," airing next month. Star James Roday broke it down for us on set in Vancouver last summer: "There's some foul play on the set of the show, Paths of Love, and Shawn and Gus [Dulé Hill] have to go in undercover as contestants in the house, vying for the affections of the Bachelorette-type girl, played by the incomparable Lindsay Sloane. As you can imagine, a lot of silliness ensues." Also there's a special treat: Our beloved Greg Grunberg hams it up as the show's producer. You know that's right!
The Spoiler Chat is daily now! Send your questions via email to tvdiva@eonline.com, or via Twitter to @kristindsantos.
—Additional reporting by Jenna Mullins, Tierney Bricker, Drusilla Moorhouse, Leanne Aguilera