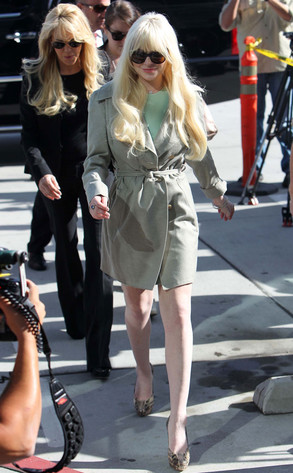 Deano / Splash News
Lindsay Lohan is really taking this whole turning-over-a-new-leaf thing seriously.
The actress arrived a whopping 24 minutes early to her probation progress hearing this morning (her earliest ever entrance, according to our E! News crack research staff), flanked by mother Dina. And you could say she arrived fashionably early, donning a court-appropriate tan trench coat, mint-green dress and a chunky diamond bracelet.
Oh, and looks aside, Lindsay's also been completing all the terms of her probation. So much so that no-nonsense Judge Stephanie Sautner proclaimed Lohan in the "homestretch" of her sentence.