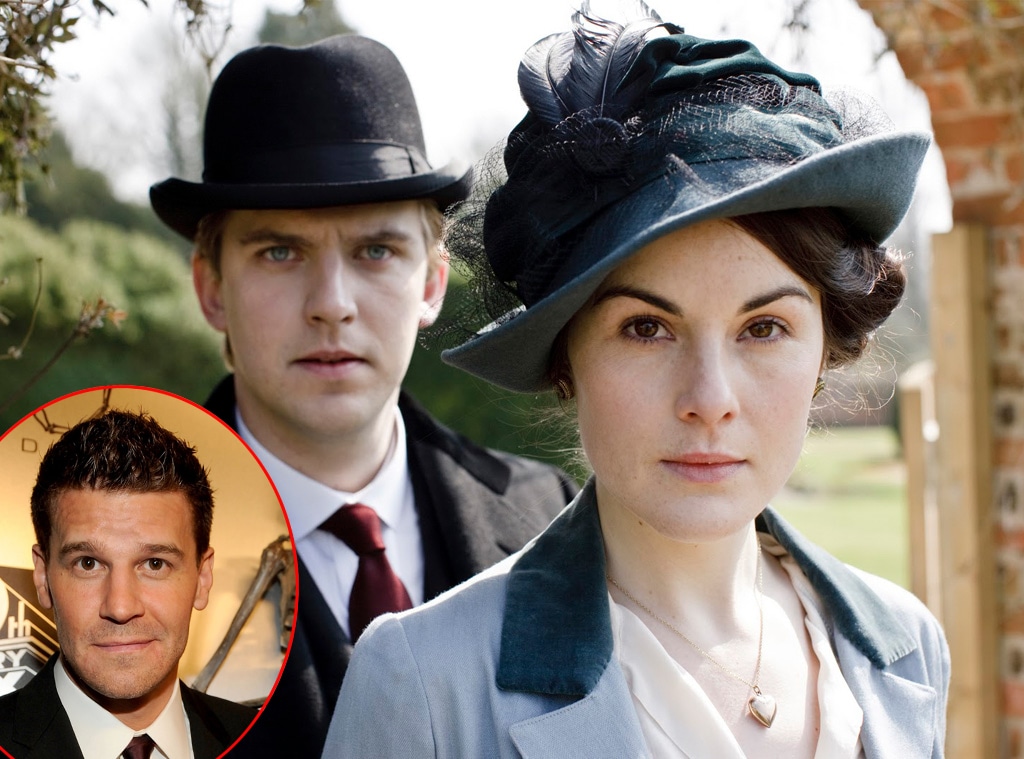 PBS; Frank Micelotta/Getty Images
Is David Boreanaz that "good man"? That "brave man" who the Earl of Grantham wants for his daughter Mary?
Because the Bones star thinks he could be the one!
"I'd like to be that American cowboy who shakes things up at Downton Abbey. I'm open for a visit Mr Fellowes. #ITV @masterpiecepbs," Boreanaz tweeted yesterday, giving a shout-out to Downton Abbey executive producer Julian Fellowes. He also praised the Emmy- and Golden Globe-winning show as a "great series" with "great production value."
Why, David, we never knew you cared!
On the season finale of the British series, which has been delighting Americans via PBS for the last year, (SPOILER ALERT) Hugh Bonneville's Robert Crawley, Earl of Grantham, tells his eldest daughter, Michelle Dockery's Lady Mary, that he doesn't want her to marry a man who "threatens her with ruin."
Her blackmailing, tabloid-publishing fiancé, Sir Richard Carlisle (Iain Glenn), is rather a louse, isn't he?
"I want a good man for you," Bonnevile says. "A brave man. Find a cowboy in the Middle West and bring him back to shake us up a bit."
Let's just say, if she brings back David Boreanaz, it will shake all of us up a little bit.
And it could happen! Shirley MacLaine will show up next season as the mother of Elizabeth McGovern's Cora, so why not throw some more Tinseltown into the mix? Could make for a jolly good show!